BEAST holds surpise fanmeet after Inkigayo on July 29th
After a brief hiatus, BEAST been has keeping busy in Korea with the release of their latest mini album "Midnight Sun."url] To touch base with their loyal fans, the group decided to have a fanmeet session following their performance on Inkigayo on July 29th. Since 2009, BEAST has done this type of fan meet every time they release a new album. The first time 300 fans showed up, then with the release of "Fiction" an estimated 1,500 people gathered. With their popularity rising, their latest fanmeet after the release of "Midnight Sun" had about 2,200 guests in attendance.

Despite the heat, the fans began showing up at the park nearby SBS's Open Hall during the early hours of the morning. Since their last album release in Korea 14 months ago, BEAST's fan base has continued to show their support for the group and their followers continue to increase. When the members took to the stage they thanked their fans for their continued support and also took photographs with the crowd as a backdrop.

Check out the fancams from the fanmeet below as well as the picture the members took with the fans in attendance!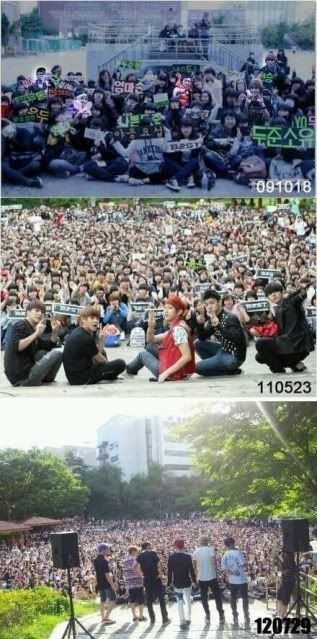 Were you able to attend their fanmeet following Inkigayo on July 29th?

Source: Star News and [url="http://www.youtube.com/user/BEASTheBest"]BEASTheBest
Join the discussion