Brian Joo announces comeback plans on Twitter
Submitted:
Dec 06 2012 11:00 PM by
ohgelie
Brian Joo surprised fans today by announcing his plans of making a comeback this 2013. Earlier today, Brian Joo posted a message on his official Twitter account and revealed, "For those who are curious, I WILL be making a comeback in 2013 so please please spread the word amongst K-Pop lovers! It's gonna be HUGE~!!" This will be his first album release since his last album "Reborn Part 1" released last January.

Brian Joo is currently managing his career as a free agent, since his contract expired with Jellyfish Entertainment last September. He recently starred in the American musical "Loving the Silent Tears" held at the Shrine Auditorium in Los Angeles.

Fans have been leaving positive messages about his comeback announcement and expressed their anticipation on his return.

Are you looking forward to Brian Joo's comeback?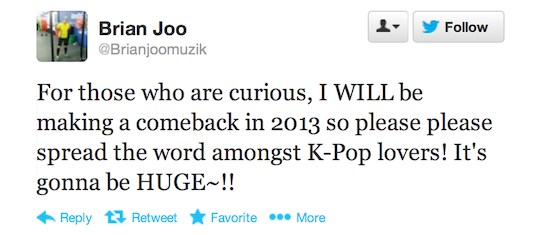 Source: @BrianJooMuzik
Join the discussion