Infinite H reveals full tracklist for "Fly High"
Submitted:
Jan 07 2013 05:05 PM by
Kaye
Ahead of their upcoming official debut, the full tracklist for Infinite H's first mini album "Fly High" was revealed.

The mini album will feature five tracks including "Victorious Way," "Special Girl (feat. Bumkey)," "When You're Not There (Feat. Zion.T)," "Can't Do It (Feat. Gaeko of Dynamic Duo)," as well as the album's title track "Fly High" for which the unit group will be getting help from labelmate Baby Soul. The singer was also featured on the sub unit's first ever track, "Crying," which was featured on Infinite's first full length album "Over the Top."

For the recording, Infinite H (Dongwoo and Hoya) collaborated with many different artists for their debut mini album, including various well-known hip hop composers and rappers such as Primary, Zion.T, Bumkey (2WINS), Paloalto, Vida Loca, and more.

"Fly High" is set to be released on January 11th. An MV teaser was already revealed earlier this week.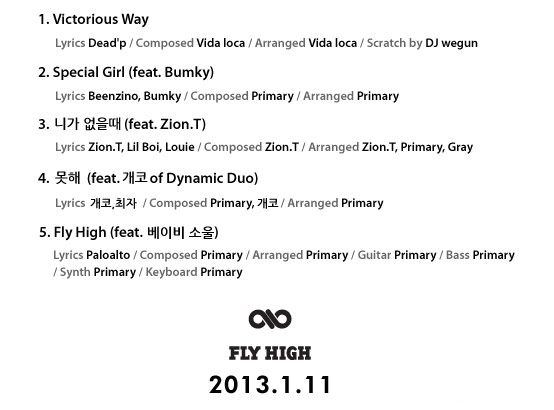 Source: ifnt7
Join the discussion