Pledis Entertainment reveals 2nd Seventeen member Jerry
Submitted:
Jan 31 2013 06:00 PM by
Kaye
With "Seventeen TV" up and running through the company's official YouTube channel, the upcoming group from Pledis Entertainment has been gaining attention for their unconventional approach.

Second person to be officially revealed being a member of the seventeen member group is Wen Junhui (Born June 10th, '96), also known under his stage name Jerry and nickname Mr. Blue Earmuffs. The latter of which is used on the group's fancafe.

Along with his official addition to the group's member line-up, a full profile was also revealed.

Earlier on it was already revealed that none of the participants in "Seventeen TV" have been confirmed to be part of the group, unless revealed otherwise. "Not all the members from 'Seventeen TV' are confirmed to be final members of the group", says Pledis Entertainment. "They will be going through training and will be judged before chosen as the final members. Seventeen is a team that starts with the public. Members will be chosen by monitoring the public's response."

Will you be anticipating the full group's debut and line-up?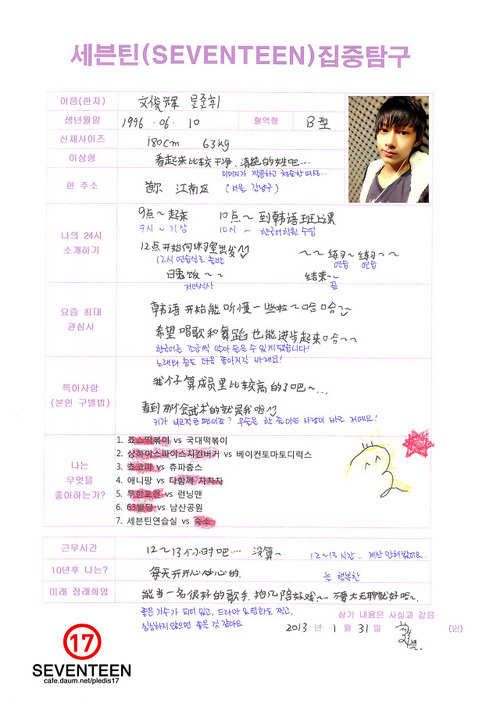 Name: Wen Junhui (文俊辉) / Moon JoonHwe (문준휘)
Birthday: 1996.06.10
Blood type: B
Height: 180cm
Weight: 63 kg
Ideal type: A girl that looks rather clean and pure I guess…
Address: Seoul, Gangnam district
How you spend your 24 hours:
9am~ Get up
10am~ Go for Korean lessons
12pm~ Head to the practice room ^_^
~~Practice~Practice~~
Dinner~~
End~~
What you're concerned with recently: I'm starting to understand some Korean~ Haha ^_^ I hope my singing and dancing skills can also improve~~
About me: I'm one of the taller ones in the group~…
If you see a member who knows wushu, that would be me ^_^
Which you prefer: (bolded his choice)
Jaws ddeokbokki vs International ddeokbokki (ddeokbokki stores)
Shanghai spicy chicken burger vs Bacon tomato deluxe (McDonald's burgers)
Chocopie vs Chupa Chups
Anipang vs 다함께 차차차 (handphone games)
Infinity Challenge vs Running Man
63 Building vs Namsan Park
Seventeen's practice room vs Dorm
Time (in practice room): 12~13 hours I guess…. Didn't count
Myself in 10 years: Spending everyday happily.
Hopes for the future: To become a very good singer, film a few good shows/films. ~~ As long as it's not too boring/uninteresting

Source: Pledis17 and fyseventeen
Join the discussion