EDITORIAL: Drama Review -- "City Hunter"
Submitted:
Aug 05 2011 08:39 PM by
orchid
WARNING: This article contains spoilers for "City Hunter", with particularly large spoilers clearly marked. If you do not wish to be spoiled, read at your own risk (Although the author has tried her best to write a spoiler-free review).

If you're looking for a faithful adaptation of "City Hunter", the Japanese manga written by Tsukasa Hojo in the late eighties, then the Korean "City Hunter" will disappoint you. Although Hojo is credited in each episode, the similarities between the manga and the Korean drama stop at the title--it can even be argued that "City Hunter" has more in common with Christopher Nolan's Batman films than its "true" source material. For fans of the manga, it's regrettable until you realize that "City Hunter" is a really, really good drama--a perfect mix of action, romance, and family conflicts with solid characters and strong direction.

"City Hunter" is at its core a revenge story. After a group of elite soldiers (think Korean Navy SEALs) are betrayed by their country, the sole survivor Lee Jinpyo (Kim Sangjoong) raises his best friend's son, Yoonsung (Lee Minho), in the drug-infested Golden Triangle and prepares him to take revenge on the Korean government. Years later, Yoonsung takes a job in the Blue House (the Korean president's residence) for a cover as he tracks down the five men that ordered the sweep mission.



Much like Bruce Wayne, Yoonsung puts on a playboy front to ward off suspicion. His true personality only appears in conversations with Shikjoong, Nana, and later, (HIGHLIGHT FOR SPOILERS)his mother(END OF SPOILERS).

When he returns to Korea, Yoonsung's "Alfred", Bae Shikjoong (Kim Sangho), asks him to take care of Kim Nana (Park Minyoung), a pretty girl he has a mysterious connection to. Nana lost her mother in a car accident and does odd jobs to cover her comatose father's hospital bills; at the start of the story, she becomes a bodyguard at the Blue House. Throughout the drama, Yoonsung, who has been smitten with her since he saw her photo in Thailand, is conflicted between wanting to get closer to Nana and pushing her away to protect her.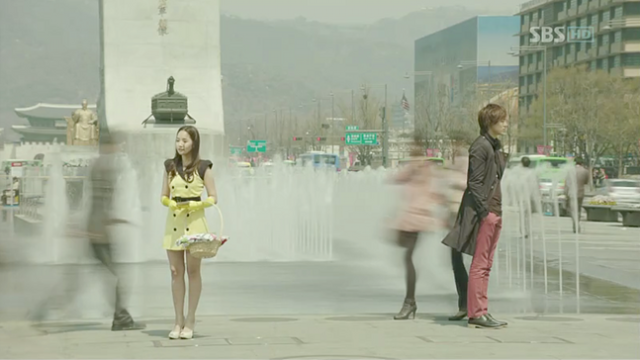 Nana first appears in "City Hunter" as a streetside salesgirl. As the drama unfolds, she's introduced as a determined but kind-hearted judo master.

What makes Yoonsung's revenge, and thus the drama, even more interesting is that he not only has to hide his identity from the government, but hide his tracks from his father. Yoonsung is well aware that if he kills anyone, he'll never be able to live a "normal" life once the revenge is complete, and instead seeks to irreversibly tarnish the reputations of the five and let Seoul's District Prosecutor, Kim Youngjoo (Lee Joonhyuk), arrest them lawfully. Jinpyo, however, thinks this is too lenient, and the two separate, forming their own "teams" with different partners. Oftentimes, Yoonsung's most important mission isn't revenge or even keeping his identity from the ever-prying Youngjoo, but stopping his father from taking the family revenge from questionably-ethical vigilantism to flat-out murder.



Jinpyo teaches Yoonsung everything he knows about combat, but is never able to make Yoonsung as angry and bloodthirsty as himself.

As Yoonsung comes further and further to completing his revenge, several sideplots present themselves--most importantly, Nana and Shikjoong's attempts at tracking down Yoonsung's mother, Youngjoo's strained relationships with his father and ex-wife, Yoonsung's attempts to learn more about his biological father, and Nana's work as a bodyguard for the president's feisty daughter (Goo Hara). The number of characters and plot points, when written down, will make your head spin, but the multiple emotional payoffs in "City Hunter" make it stronger. Like a good video game, "City Hunter" keeps you on your toes with twists and satisfied with little accomplishments--Yoonsung "defeating" one of the five, for example--just as those accomplishments build up to an explosive ending--the action-packed, emotionally wrenching final three episodes.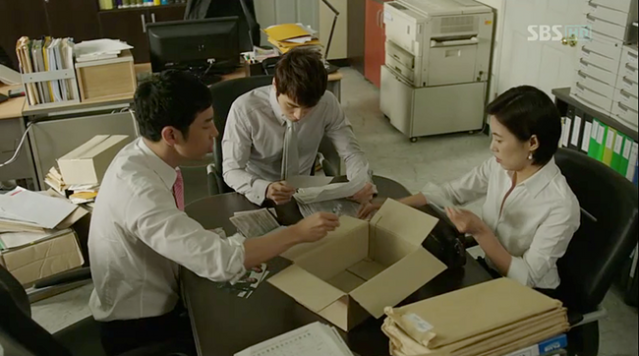 Prosecutor Kim Youngjoo's office receives a package from the City Hunter. Although Yoonsung arguably helps him arrest several corrupt politicians he'd been pursuing, Youngjoo is determined to uncover the City Hunter's identity and stop him.

Action movies often fall flat because of dull characterization--we can all think of at least one film headlined by a generic assassin character. Yoonsung avoids this by having a personality to begin with, and developing throughout the show as he realizes his ideals and his father's intentions are, despite Yoonsung's wishes, completely incompatible. Jinpyo's ever-increasing string of manipulative lies keep you wondering if he loves Yoonsung as a son, or sees him merely as a weapon (like Severus Snape's intentions in the Harry Potter series, you don't find out until the final act). But the strongest character, personality-wise, is Nana, the rare Korean drama heroine with the golden trifecta of brawn, brains, and compassion. She captures your heart in the second episode with her dedication to her father's health, and grabs your attention when she uses her trademark body throw on Yoonsung. Unlike many love interests in vigilante tales, Nana puts two and two together quickly, (HIGHLIGHT FOR SPOILERS)realizing that Yoonsung is the City Hunter almost immediately after seeing him up close and personal. Later, as Yoonsung discovers his biological father's identity, it's Nana that gives him the information that confirms it, and she even realizes the truth herself right as she tells him.(END OF SPOILERS) Although her plot lines weaken during the drama's climax, and the ending doesn't give her story a satisfying payoff, I'll never forget the amazing first impression Nana gave in her initial appearance.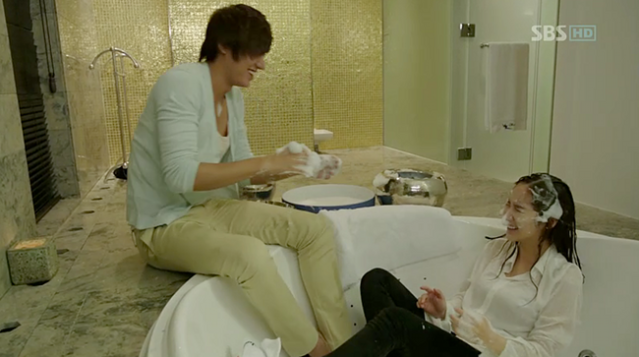 Yoonsung and Nana get into a suds fight. As Yoonsung distances himself from his father, Nana and Shikjoong act, on a metaphorical level, as his "surrogate" family.

As Nana reappeared in different scenes, I realized, in different ways, how fond of her character I was. I had the same reaction to "City Hunter"'s soundtrack and the way the directors used it, which, while it isn't as in-your-face as good acting or tight plotting, is the sort of detail that can make a work vastly more enjoyable. Fans of Lee Minho will remember his breakout role in "Boys Before Flowers" and probably also the laughably awful music inserted at completely inopportune moments--a song called "Almost Paradise" probably isn't suited for a hot-blooded hockey showdown, but the director didn't consult me beforehand. Maybe I'm too accustomed to poor music timing in Korean dramas, but every time a string of notes appeared in "City Hunter", I was shocked at how the music enhanced the scene rather than shouted over it. The songs aren't chart-toppers, nor are they Oscar-winning compositions, but the director used them so effectively it was as if they were. My personal favorites are "It's Alright", a rock number played often during fight scenes, "Suddenly", used effectively in a number of ways, this instrumental used during tense scenes, and SHINee's Jonghyun's contribution to the soundtrack, "So Goodbye", a staple of romantic moments. The director of "City Hunter" clearly understood not only that music can make a scene better, but that not every scene needs a soundtrack. Compared to the other dramas I've seen, this alone is remarkable.

In a way, "City Hunter" is a strange success story. It's almost completely unfaithful to its source material, had a string of baffling and seemingly unconnected promotional posters, and includes a number of well-known Korean drama cliches ([HIGHLIGHT FOR SPOILERS]I certainly didn't expect cancer and decades-old paternity secrets in an action drama, although, to the show's credit, they're used fairly well[END OF SPOILERS]). "City Hunter" definitely isn't a good model for an adaptation, but it will have you gasping at your computer screen as you reach for the next episode, praying that Yoonsung and Nana make it to the end alive.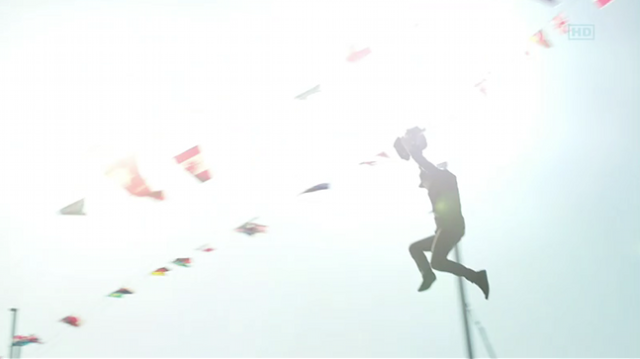 EDITORIALS on Koreaboo.com reflect the opinion of individual Koreaboo writers and not of Koreaboo.com as a whole.

Sources: KPOPjjang44, IketeruLovekoreOST, ddscleve8, and PCJsubs
Join the discussion