[EDITORIAL/RECAP] Cube Entertainment successfully holds "United Cube in London"
Submitted:
Dec 07 2011 11:20 PM by
ohgelie
K-Pop fans in London, United Kingdom and other European countries were in for a treat as Cube Entertainment's "United Cube" pulled off a successful concert in the country. On December 5, 2011, fans were treated to live performances from Cube Entertainment's artists 4minute, G.NA, and BEAST in London's O2 Brixton Academy.

On the afternoon of the event, news that fans were already in long queues was passed around making the anticipation for the concert rise even more. The doors were scheduled to open at 5:30PM, but queues were already getting very long by 2PM. The fact that fans decided to camp the night before, didn't exactly calm the nerves of the fans living in the city.

Situated in the queue by 2PM in the afternoon, we were further indulged by a surprise wave from G.NA, as she popped her head out one of the windows, a gesture which touched the hearts of the cold, waiting fans.

Meanwhile, doors did open by half past five and we were eventually greeted by various promotional offers. There were freebies from South Korea's "Infinitely Yours, Seoul" campaign being handed out, which contained post its featuring 4minute, G.NA, and BEAST, along with a small poster. A photo booth allowing fans to take photos with the poster along with the mascot where also situated at the side.




Upon entering the venue, fans were not able to miss the merchandise booth which sold official posters and albums for reasonable prices.

After passing through the promotional items, fans were then able to find their spots in the venue which consisted of unreserved standing room and seating. Having two hours more before the actual concert began, we were greeted with various music videos from the artists, with eager fans singing and dancing along.

By 7:30PM, the lights dimmed and a message saying "United Cube in London" flashed on the screen, hyping the fans all that much more. It also helped that the the venue had an elevated stage, allowing fans to have a good view no matter where they were.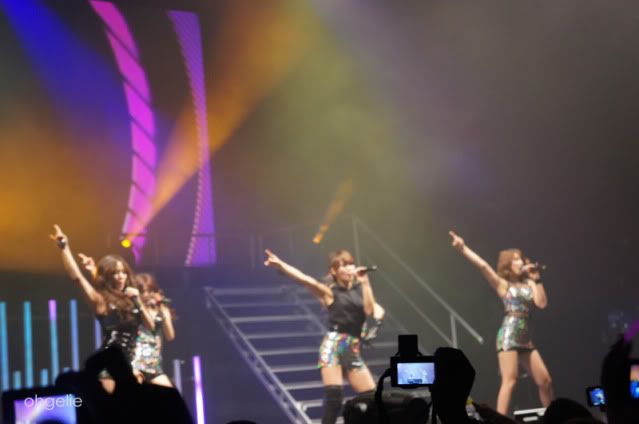 The concert started with 4minute in their white suits as they performed hit tracks such "Hot Issue," "I My Me Mine," and "Heart To Heart." Afterwards the members introduced themselves and spoke in favorable English as to how they were happy to be in London. Bless them for trying, however, for longer conversations, they opted for a translator who translated everything they said in Korean to English.



Meanwhile, while they did the introductions, Hyuna shyly moved away from the stage and we already expected that a solo performance was on its way. It was only minutes after that they introduced Hyuna's solo stage in which she performed her track "Bubble Pop!" Following Hyuna, Gayoon and Jiyoon prepared a performance for the fans and went on stage with a cover of Ke$ha's "Blow."

Afterwards, fans were greeted with 4minute's Intro "Who's Next" while the dancers showcased their moves dancing along to LMFAO's "Party Rock Anthem." 4minute then reappeared on stage in new midnight blue outfits as they performed their track "Huh." After a short talk, 4minute introduced their last songs for the night and then performed "Mirror, Mirror" and "Muzik."




G.NA came after 4minute, dressed in a sequined black dress and a blazer. She performed her track "Black & White," which gained favorable responses for the audiences and continued with the English version of her track "I'll Back Off So You Can Live." After a short break, G.NA introduced a last minute performance dedicated to London alone, as she belted out covers for Rihanna's "Take a Bow" and "Rude Boy." Despite messing up the first few parts of "Rude Boy," she was able to take control and handle the performance well. "Supa Solo" came after her Rihanna covers.

Expressing her thanks for the fans that came, G.NA introduced her last two songs for the set and immediately performed "Banana" and "Top Girl."

BEAST followed after G.NA, which undeniably the highlight of the night. I was never a big fan of the group, despite knowing their songs, but after the awesome performance, I can absolutely consider myself a convert. BEAST started off with their track "Shock," which was undeniably popular amongst the audience and it was followed by "Breathe" and "Bad Girl."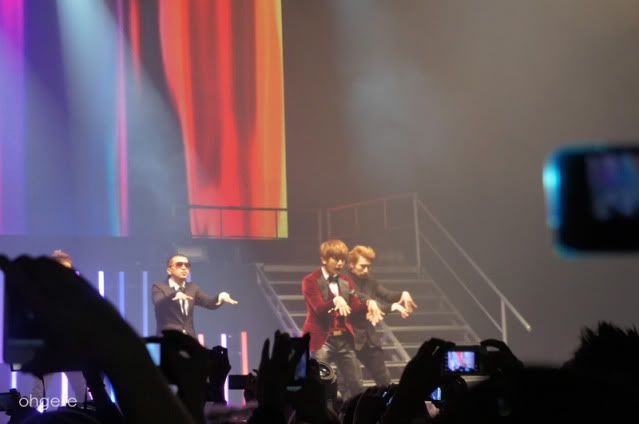 After a short break, trying to catch up with their breath and their English, BEAST continued the show with "Oasis" and "You."



While the members were preparing for the next stage, fans were given a glimpse of a special music video, highlighting BEAST's journey from debut up to their current stardom. Avid fans of the group were in tears after seeing the clip, as it featured scenes from their training days, first debut stage, and first win. The video was subtitled in English and was accompanied by the orchestral version of "Fiction" in the background.

The surprise came afterwards as JS+HYUNA went back on stage to perform their project unit track, "Trouble Maker." It was further surprising how fans were able to chant along, even though the unit just debuted last week.




Coming on to the last set of songs from the group, BEAST reappeared on the back part of the stage, in new outfits. Slowly reappearing to the audience, seated in silver chairs, BEAST performed the unplugged version of their track "Lightless." BEAST continued their performance with "On Rainy Days," "Fiction," "Freeze," "Beautiful," and "V.I.U."



After BEAST's stage, the rest of "United Cube" gathered on stage, complete in white shirts with their group's name and logo behind it. 4minute, G.NA, and BEAST rejoined in one stage as they performed their track "Fly So High" from their special United Cube album.

All in all, I was pretty impressed with the entire concert, BEAST especially. The members of 4minute were good charmers on stage with vocals and 4minute was a good choice to be the first act as they hyped everyone up. For the first part of the performances, I really found G.NA's vocals lazy, but eventually picked up in the middle. I figured it could have been from technical difficulties, as we did get minor errors during the event.

Let me express my admiration towards BEAST as I have misjudged them before. They are certainly good performers and music shows don't them any good at all.




Everyone in London went home happy that night as the local K-Pop community had a good atmosphere in hand. No fan-wars nor fights were witnessed, except for the occasional annoyance from banners and overly pushy fans. It was further noted that a number of fans fainted or were injured while attending the concert, as ambulance and paramedics were spotted outside the venue.

EDITORIALS on Koreaboo.com reflect the opinion of individual Koreaboo writers and not of Koreaboo.com as a whole.
Join the discussion