2PM's Junsu changes his real name + will use "Jun.K" as his stage name
2PM member Junsu announced that he will now be officially known as "Jun.K."

On October 17th (KST), Junsu tweeted through his official twitter, "Because of a family matter it was decided to change my name." Explaining the reason he said that his, "Official stage name will be "Jun.K" as it was before but the real name has changed to "Min-jun". Junsu will no longer be used in the future."

Through his twitter, Jun.K tweets in Korean and Japanese, explaining that because of a family matter he had changed his real name "Junsu" to "Minjun." Jun.K did not explain any further about his family matter. With his birth name changed, he will now be called "Jun.K," the name that he used during his solo promotions for "No Love."

With this unexpected announcement, Jun.K surprised many of his fans today. Fans tweeted him back with comments like, "We respect your decision, Minjun oppa," "Minjun-ah~," and "Why suddenly?"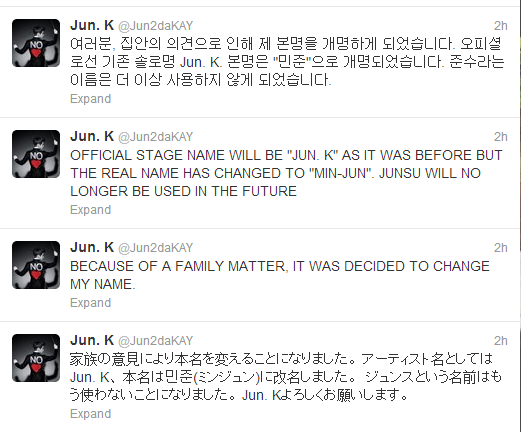 Source: @Jun2daKAY
Join the discussion