PSY's "Gangnam Style" ranks 1st in the U.K's Official Top 40
Submitted:
Sep 30 2012 08:42 PM by
ohgelie
PSY's "Gangnam Style" officially lands its first #1 on the U.K's Official Top 40 Singles Charts. Just last week, PSY ranked 3rd on the official rankings after contending with The Script's "Hall of Fame" and Example's "Say Nothing." He also ranked 1st on Vodafone's Big Top 40.

Last September 27th, The Official Charts Company revealed that the track showed no signs of slowing down and was predicted to officially top the chart by the end of the week.

On September 30th, the official list revealed "Gangnam Style" at the top of the charts, after spending 6 weeks in the Top 40. This achievement also makes PSY as the first Korean artist to top the U.K's Official Singles Chart.

Back in the U.S, PSY peaked in 2nd place on the U.S. Billboard Hot 100 Chart and promised to perform shirtless if he makes it to #1.

Congratulations on your first U.K #1 PSY!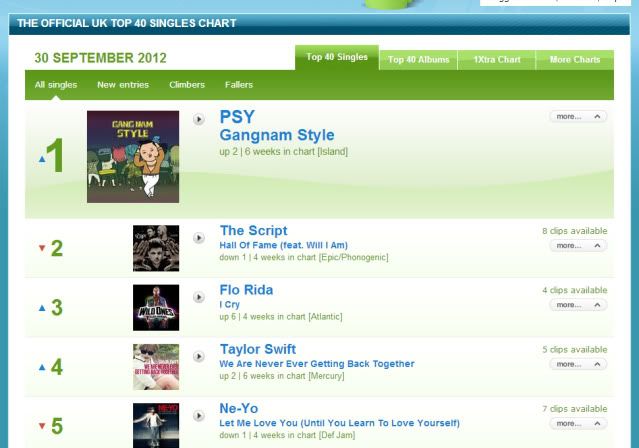 Source: TheOfficialChart
Join the discussion