The TVXQ / JYJ conflict: a recap and most recent updates
Submitted:
Jan 13 2011 06:20 AM by
DareDB
It has only been 13 days into the new year, and 2011 has already seen tremendous controversy, most particularly regarding the "new TVXQ" and the dispute with JYJ. This unfortunate firestorm of news has resulted in much unwanted drama with fans, and celebrities feeling the pressure of choosing a side. Here is a recap on what has happened so far.

With the members of TVXQ being apart for over a year, JYJ has expressed in December that they have repeatedly tried to contact Yunho and Changmin, but have failed to reach them. Weeks later, TVXQ made their grand return to the Korean market on January 3rd with the release of the single "Why (Keep Your Head Down)". The lyrics of the song started the first wave of controversy due to the song's possible meaning hinting at the JYJ team. Yunho later confirmed that the song was really about a "man's strong determination to overcome a breakup."

On January 6th, the conflict further escalated when JYJ member Kim Junsu tweeted the following message, "This can't be true... I came to believe that those things was the enemy of all five of us, however now I think not all of us see it that way. Seeing how you express your gratitude to someone who was our enemy, makes me wonder... there must be a lot of things that happened when we were apart for a long time. I'm getting tired."

The next tweet said, "I try to think, see and listen only to the good things from all these times, but just today I find it really difficult. Even though we're apart, this isn't right, Hyung. We used to share the same thought. Why are you doing this."

Many came to conclusion that the tweet was directed towards TVXQ's leader Yunho. Many celebrities such as BoA, Sim Jaewon (SM's choreographer), and Sungmin of Super Junior have expressed their concern. Jaewon tweeted (and BoA retweeted) "..Little brother, this is really not right... Don't pretend to be upset…You're so ungrateful, how could you do this...?"

Meanwhile, Sungmin blogged, "…I guess they forgot it was our dream to be on air just once… I understood them for leaving to find their own way without saying a word to us, and I forgave them because of the friendship we had. But now they're just saying lies and things to hurt us and I don't know why they're trying to make the rest of us look stupid."

Keep in mind that none of the tweets were specifically addressed towards anyone. TVXQ began their latest promotions this past weekend but avoided addressing Junsu's tweet until after the comeback stages.

In an interview with Yunho a few hours ago, the leader addressed JYJ's response about contacting HoMin over the past few months. Yunho has said that it is not true and added, "I've never been contacted. Even if I want to contact them, the three have changed their contact information. Even if they did try to call me, if it was an unknown number, I might not have picked up. I get too many prank calls to pick up numbers that I don't know."

Yunho further added to his statement regarding Junsu's tweets expressing, "I won't respond to anything else, but I don't think it's proper to call elders and people that we've toiled together with as 'enemies'."

Jaejoong most recently tweeted, "This, I want to reply directly [to you]. I will tell this [to you]. Even though there weren't many…the text messages that I did send…do you know it was hard to send those messages? I just messaged you again, confirm it (when you receive it)." It is speculated that the tweet could again be directed towards TVXQ, but it is not confirmed.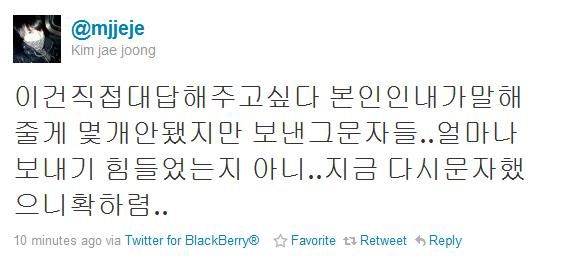 In addition, it should also be noted that on several Korean news websites such as Daum, certain articles relating to JYJ have been taken down. Though it is unknown why, fans are beginning to question that this could stir more unfortunate controversy. See below for screenshots of a JYJ article from earlier today and the current result.




Sadly, this could only be the beginning concerning the TVXQ and JYJ controversy. Both JYJ and TVXQ have plans to further promote their newest material, so no one can tell whether or not the members are looking to resolve this entire situation. Some fans have decided to support only JYJ or only HoMin, while others continue to support all 5 members. Koreaboo will keep everyone updated as more news about this dispute continues to unfold. Stay tuned. What are your thoughts about all this? What do you think will happen in the end?

Source: Newsen (1), (2), (3), (4), (5), Star Today (1), (2)
Join the discussion