[★VIDEO] EXO-K CF for Lotte Pepero
The EXO 6-member sub-group appeared in a 30-second CF for Lotte's Pepero, which also featured Red Velvet, another idol group from SM Entertainment. Despite multiple members of their other sub-unit (EXO-M) being involved in a series of controversies, EXO-K (which includes Baekhyun, Suho, Chanyeol, D.O, Kai, and Sehun) appeared lighthearted and relaxed in their new CF for the chocolate-dipped cookie stick, Pepero.
The ad, which features a short jingle sung by the group , begins with the boys casually playing around and eating the snack. They are then greeted by their fellow label mates Red Velvet (who still have their old hairstyle!) followed by a large crowd of people. The two idol groups then begin distributing boxes of the Pepero to the eagerly waiting crowd.
Pepero is an extremely popular snack in South Korea, and is almost synonymous with Korean foods to foreigners. Will the CF make the snack even more popular? Decide for yourself by watching the video below!
https://www.youtube.com/watch?v=wTCG4gniG44
EXO is currently a 10-member group, and EXO-M member Tao hopes to stay together at that number. Meanwhile, EXO is currently focusing on both of their solo and group activities, with Tao promoting for Law of the Jungle – Solomon Islands.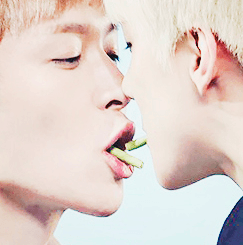 Share This Post