Audience moved to tears by grandma's rapping ft. MONSTA X on "Hip-Hop Nation"
JTBC's show Hip-Hop Nation continues to capture the attention of the public as one of its contestants recently took the stage with one of their most moving performances yet.

Aired on May 6th, the 6th episode of the competition show held a theme of family in which rap contestant and grandmother Kim Young Ok performed her self-written lyrics for the song "Grandmother Bird" with the help of MONSTA X member Jooheon and Kihyun.
Within seconds of the start of the stage, the audience had already begun to having tears in their eyes as they listened to the heartfelt lyrics. Jooheon wrote his own lyrics for his solo which were dedicated to his grandmother who had passed away. Rapping with the utmost passion, members of the audience were seen shedding tears.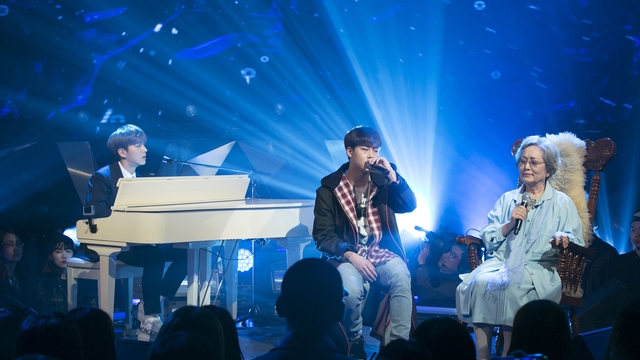 He raps, "When I was sick, laying down after a hard time. You called me once a day and reassured me that I was the best. And like an idiot, you hid your tears. Now that I look back at it, I regret is so much. When I was young, everything you told me was annoying and tiring and was just too loud for me. I cut every single word coldly. I'm sorry my love, how are you up there. I got to fulfill my dreams and do what I wanted to do. I don' t know if you're watching me right now. I hope my true feelings touch your heart. My lover, you are my live, my pride, my grandma, my grandmother. Wipe your tears and smile in my direction." (translations provided by @MONSTAXTRANS)
Motioning towards the audience, Kim Young Ok tells them, "I love you my grandchildren. All grandmothers love their grandchildren."
(LYRICS) Grandmother Bird – Kim Youngok x Jooheon feat. Kihyunhttps://t.co/FJj3JxCwuE pic.twitter.com/G48tI9a7MQ

— MXTRANS ✨ (@MONSTAXTRANS) May 6, 2016
Source: JTBC
Share This Post