BIGBANG's Taeyang Performs At A Military Concert And All The Inner Fanboys Jumped Out
They knew all the words
Taeyang had been completing his mandatory military service since more than a year ago, but that hasn't stopped him for showing his prowess at performing!
He has performed multiple times at military concerts and events over the past year.
Sometimes even Daesung joined him!
It is well known, that those in military service are hugely in love with girl groups.
Girl groups are always the most requested as performers at military bases. And when they do perform, the soldiers can't control their inner fanboy.
But there is one boy group that soldiers in the South Korean army will gladly fanboy over. That group is the King of K-Pop, BIGBANG.
Recently, Taeyang gave a performance at the 30th Infantry Division 64th Anniversary Sports Festival.
And no one could hide their excitement.
Fan boys are winning again that's not fair!!😤

But their chants are on whole another level😆…so maybe I let it go once again😧https://t.co/gpiSxUnE1L pic.twitter.com/hwenroYS6c

— Corporal BIGBANG (@Elis5bang) May 9, 2019
When he appeared, the soldiers all rushed towards the stage, as he started singing his solo "RINGA LINGA".
It was soon clear that the soldiers knew all of the words to Taeyang's solo piece and were moved by Taeyang's energy and performance skills.
OMG Taeyang had another event today!!😍😍

Look at the crowd when taeyang goes up to the stage!🔥🔥

Full fancam: https://t.co/VVy5lZWPuV pic.twitter.com/ZDVGzx4HAE

— Corporal BIGBANG (@Elis5bang) May 9, 2019
Taeyang then did a one-man performance "BANG BANG BANG", a song that everyone in the Korean army will know the lyrics to.
He knew how to fill the stage with his presence and enhanced the audience's energy.
Taeyang didn't even need to sing the chorus, because the soldiers were chanting out every single word of the chorus.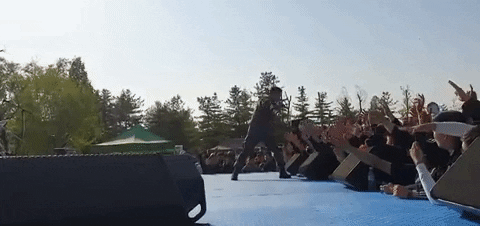 But the audience was loudest when Taeyang began performing his final song, the K-Pop classic "Fantastic Baby".
The soldiers even started fanchanting, showing that with BIGBANG, no one can resist hiding their fanboying or fangirling.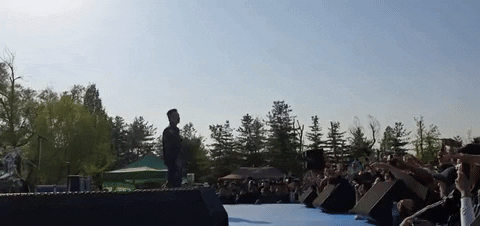 Taeyang showed that he still knew how to fill up the stage!
The soldiers continued cheering on Taeyang as he busted out his smooth and powerful dance moves during "Bang Bang Bang" and "Fantastic Baby".
Additionally, they were charmed by his soulful and emotive style of singing.
When Taeyang finished his performance, the audience wouldn't stop shouting "Encore".
It comes to show that truly everyone misses seeing BIGBANG on stage.
But thankfully, Taeyang will be released from his military service before the end of this year on 11 November 2019.
We cannot wait for him to return to the world stage again!
Share This Post