[★TRENDING] Man throws sharp paper planes with crazy accuracy on "Star King"
A man going by the name Lee Jung Uk showed off his amazing paper plane tricks act on the recent episode of Star King, impressing with its deadly aim and strike.
The episode aired on July 18th where he first began his stage by showing off simple airplane tricks, impressing the celebrity guest panel with his accuracy.
But what blew their mind was when he began to throw the airplane with deadly accuracy through two balloons, before moving to throw the A4 paper airplane at apples and watermelon, piercing right into the fruits.
Formally introducing himself to his audience, Lee Jung Uk revealed himself as a paper plane champion and won a place on the national team in this year's Redbull Paper Wings World Finals, studying aerodynamics to further his love of throwing paper planes.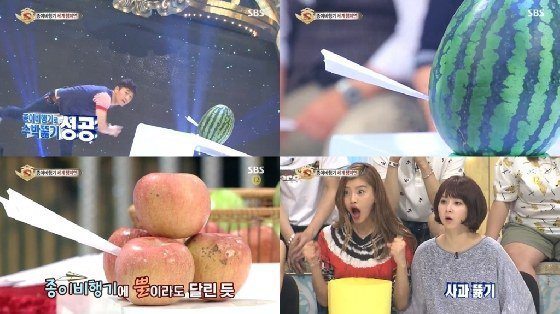 Source: Star News and Joongang Daily
Share This Post