Win 1 of 5 Pair of Tickets to Dynamic Duo's Concert!
Hip-hop duo Dynamic Duo is getting ready to hit the United States with their Grand Carnival tour in March for the first time, and you may win the chance to experience it with them!
Presented by Amoeba Culture and MyMusicTaste, Dynamic Duo will be visiting five U.S. cities including New York, Chicago, Atlanta, Dallas, and Los Angeles, touring with DJ Friz.
You can join the festivities as Koreaboo, in partner with MyMusicTaste, is giving away FIVE pair of tickets to their New York stop.
Dynamic Duo will be performing in New York on March 11th at 8pm local time at the Playstation Theater.
The rules are simple. Read the requirements below to win for the chance to win a ticket to see Dynamic Duo perform live in New York!
RULES:
Comment on the specific Facebook post below and tag the friend you want to take with you!
Contest end date: March 8th at 11:59pm PST
Tickets are still available for Dynamic Duo's New York concert as well as the other stops, look below for more information: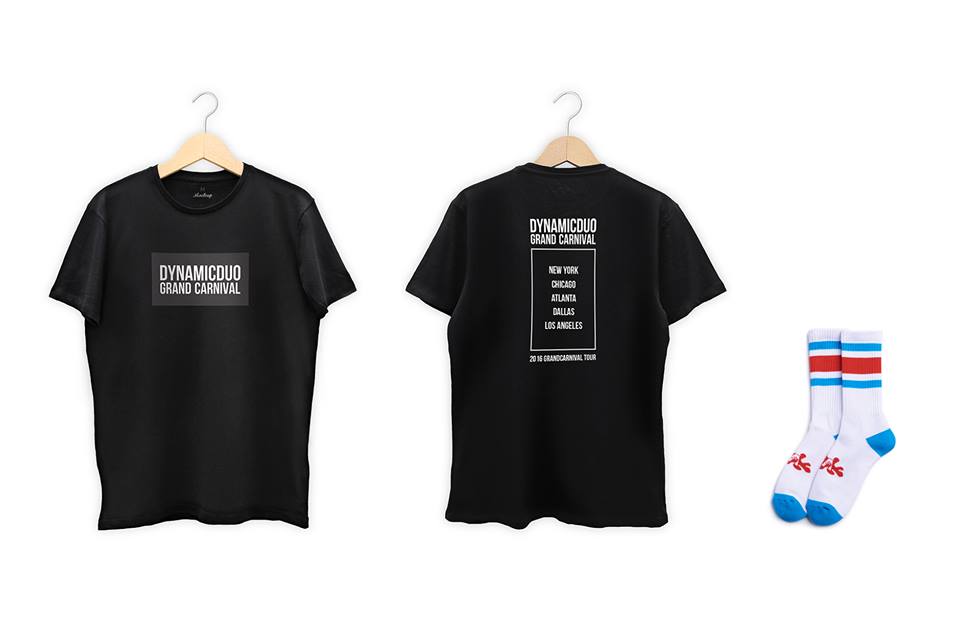 Show Information:
6:00 PM – Meet & Greet
7:00 PM – Doors Open
8:00 PM – Concert Begins
March 11, 2016 – New York City, New York
Playstation Theater
VIP: $160 USD
Priority: $95 USD (Early Entry & Amoeba Culture crew socks)
GA: $70 USD
Tickets available at AXS
March 13, 2016 – Chicago, Illinois
The Vic Theatre
VIP: $160 USD
GA: $70 USD
Tickets available via ETIX
March 16, 2016 – Atlanta, Georgia
The Loft
VIP: $160 USD
GA: $70 USD
Tickets available at The Loft
March 17, 2016 – Dallas, Texas
Granada Theater
VIP: $160 USD
GA: $70 USD
Tickets available at Ticket Fly
March 19, 2016 – Los Angeles, California
Club Nokia
VIP: $160 USD
Priority: $95 USD (Early Entry & Amoeba Culture crew socks)
GA: $70 USD
Tickets available at AXS
DYNAMIC DUO GRAND CARNIVAL TOUR 2016

Don't miss the chance to see your favorite hip-hop duo Dynamic Duo LIVE in concert at a city near you! DYNAMIC DUO GRAND CARNIVAL tickets are now on sale…buy one (or 10) today!Ticketing Information Is As Follows:3/11 (FRI) NEW YORKhttp://www.axs.com/events/307076/dynamic-duo-tickets3/13 (SUN) CHICAGOhttp://www.etix.com/ticket/p/6558437/dynamic-duo-grand-carnival-tour-in-chicago-chicago-vic-theatrechicago-il3/16 (WED) ATLANTAhttp://order.ticketalternative.com/cgi-bin/ncommerce3/SEGetEventInfo?ticketCode=GS%3ATAUSA4%3AR16%3ADYN0316%3A&linkID=ta-multiclient3/17 (THU) DALLAShttps://www.ticketfly.com/purchase/event/10926973/19 (SAT) LOS ANGELEShttp://www.axs.com/events/307336/dynamic-duo-ticketsShow Information: 6:00 PM – Meet & Greet7:00 PM – Doors Open8:00 PM – Concert BeginsTicket Prices Are As Follows..New York & Los Angeles:VIP: 160 USD – includes Meet & Greet with the artist & Group Photo as well as exclusive tour T-shirt & Amoeba Culture crew socks.Priority: 95 USD – includes early entry & Amoeba Culture crew socksGA: 70 USD – general admissionAtlanta, Chicago & Dallas: VIP: 160 USD – includes Meet & Greet with the artist & Group Photo as well as exclusive tour T-shirt & Amoeba Culture crew socks.GA: 70 USD – general admissionCheck out merchandise info on the event page of each city!*Prices do not include service fees and there will be at least 5 fans per group photo**Please note that there will be NO merchandise sales at the venue. Merchandise is given to VIP ticket holders and Priority ticket holders.Dynamic Duo – 다이나믹듀오Amoeba CultureMyMusicTaste#DynamicDuo #GrandCarnivalTour #UnitedStatesTour #2016 #Choiza #Gaeko #DJFriz #AmoebaCulture #MyMusicTaste #MMT #Concert #Ticketing #ticketopen #다이나믹듀오 #미국투어 #최자 #개코 #디제이프리즈 #아메바컬쳐 #마이뮤직테이스트 #마뮤테 #콘서트 #티켓 #티켓판매

Posted by MyMusicTaste on Thursday, February 25, 2016
[WAIT FOR COMMENT TO LOAD BELOW]
Share This Post