Fan cafe rankings reveal TOP male idol groups in China
China's fan cafe rankings reveal the most popular male idols from South Korea.

K-pop is indeed popular all over the world including Japan, Philippines, China and other areas such as Europe. But which groups are most popular in China? The number of fans and the ranks of fan cafes of K-pop groups have been revealed!
Originally posted on Pann, netizens discuss the ranks of fan cafes in China.
Titled "Ranks of Male Idol Groups' Fan Cafes," here is the direct translation of the post and comments below.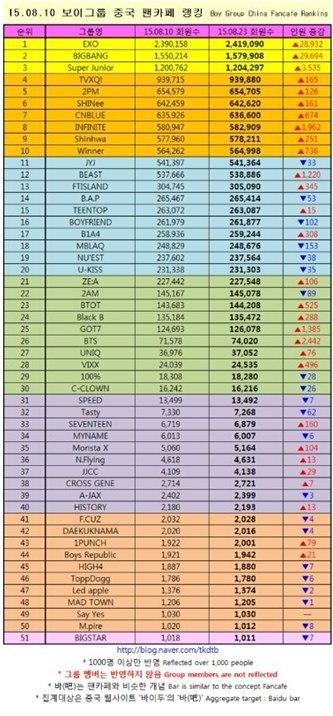 The top 15:
EXO
BIG BANG
Super Junior
TVXQ
2PM
SHINee
CN BLUE
INFINITE
Shinhwa
Winner
JYJ
BEAST
FT Island
B.A.P
TEEN TOP

[ +204 / -21] EXO is invited to Jackie Chan's birthday party. It doesn't matter if people here diss them.
[ +194 / -14] It was funny when an anti-fan was making up stories of how EXO concert tickets weren't selling hahahaha
[ +177 / -8] It says the ranks are from Baidu. Their influence is the biggest
Share This Post