Girl's Day accused of collecting data on haters via fan cafe
With the recent rumor that "Girl's Day is currently at war with haters," netizens are causing an uproar online.
On various online communities, Girl's Day has become a hot issue. The saying "Girl's Day is keeping an eye on the haters," has spread quickly amongst netizens, leading to the question, "Is Girl's Day being framed by their haters?"
Not long after, another rumor rose: "Girl's Day is gathering data about haters." A recent post on the Girl's Day fan cafe reads "Report Girl's Day Haters" which is stimulating discussion among netizens. This post has since then spread towards other online community sites, known with the title "Girl's Day slander."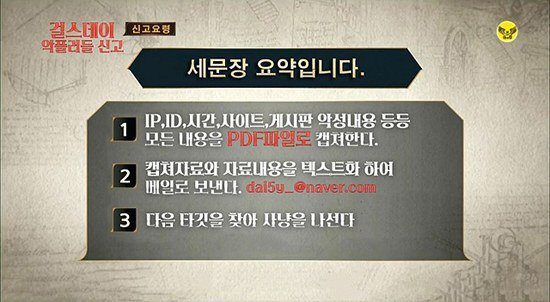 The three-step instructions are as follows:
1. IP, ID, the time, site, notice/message board, topic, etc. : capture it all on a PDF FILE.
2. Email the captured material + explanation/topic text to dai5y_@naver.com
3. Find another target and continue the hunt
Some fans stated, "Is there someone out there who's trying to ruin Girl's Day by shaking things up [like this]?", further encouraging rumors of the group gathering data against malicious commenters. Another commenter said, "Now that Girl's Day has gotten popular I think they're ignoring even people's interests. What if their agency is fixing something behind the scenes?"
However, their agency's response has also become a hot topic. On July 30th, their agency revealed via a phone interview that, "We didn't know there was such a post on their fan cafe. It's actually the first time we're hearing about such a thing," adding, "But since the fans seem to be moving themselves, we think that there is no need for our agency to intervene in any way. We also don't have any plans to gather data to confront the malicious commenters." However, Dream Tea Entertainment added that they feel they should at least find the source of a post like that in their fan cafe – whether it be from another hater or another fan.
Source: The Fact
Share This Post