Girls' Generation's Taeyeon is fed up with fans trying to hack her Instagram
Girls' Generation's Taeyeon faced a tiresome few weeks online. Today, it was revealed that the singer got hacked by her own fan. 
On May 10th, the singer posted a lengthy comment on one of her Instagram posts, alerting her fans and followers of the recent hack. The singer started to plead fans with a statement, "Please don't hack my Instagram" as she explained how she discovered the breach in her personal account.
According to Taeyeon, she spotted a number of added photos on her account, along with receiving text messages alerting her to change her PIN number. She went on to reveal that the alleged hacker is a fan with a photo of a Girls' Generation's member on it and such breach wouldn't have happened as she has blocked auto add on the said social media platform.
As fans were alerted of the breach, some also couldn't help but find some of her photos tagged with fellow artists such EXO's Baekhyun, BIGBANG's G-Dragon and an account that supports Girls' Generation's as nine members.
Meanwhile, for the past few weeks, Taeyeon was involved in a number of malicious speculations linking her to G-Dragon, to which SM Entertainment has previously denied.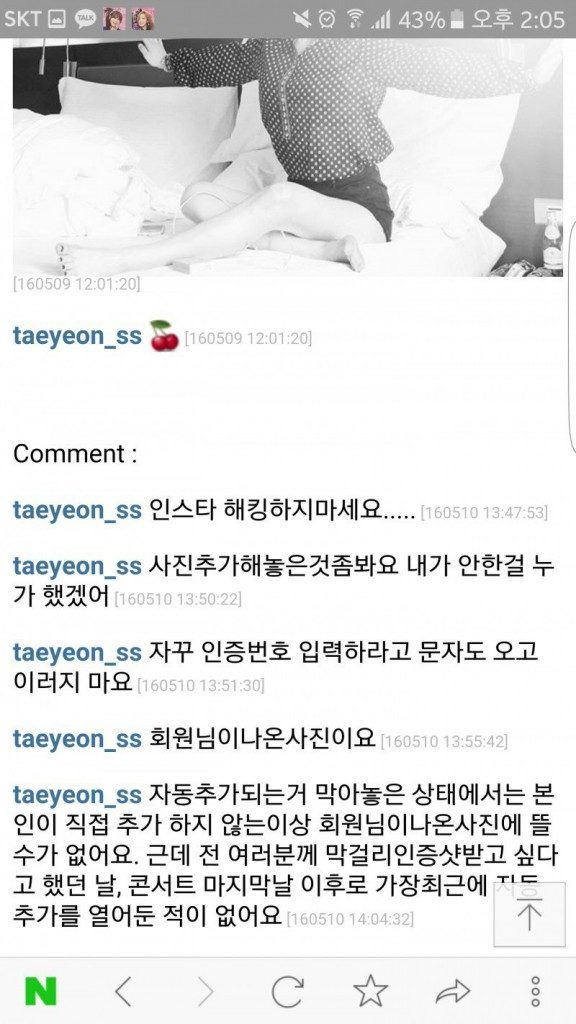 Source: Instiz
Share This Post