HALO reveals fan-collaborated "Hello HALO" album cover
Rookie boy group HALO has revealed the fan-collaborated cover image for their upcoming comeback mini-album Hello HALO.
After announcing their comeback set for November 20th and releasing concept images for the new album, HISTAR ENTERTAINMENT once again teased fans by unveiling photos of the album cover for Hello HALO on November 14th.
The cover features HALO's six members, Ooon, Dino, Jaeyong, Inhaeng, Heecheon, and Yoondong, sitting in front of a collection of fan-art drawn by actual fans of the group. The drawings were received through a special event that ran from September to October on HALO's fan cafe. The album art for Hello HALO features many of these entries, and cute drawings of the group and individual members also appear throughout the album jacket.
HALO is known to be especially good at taking care of their fans, and they have shown their strong love for them once again by including them into the making of their second album. HISTAR ENTERTAINMENT commented, "During the planning of their upcoming album, the members of HALO expressed their wish to create this album together with their fans. We received more participation in the event than expected, and it even became difficult to choose among the fan-art submitted. The members are thankful for the support and they are very happy to have created an album that holds a special meaning with their fans."
The upcoming album follows HALO's June 2014 debut album 38°C and its title track "Fever." Be sure to look out for the release of Hello HALO on November 20th!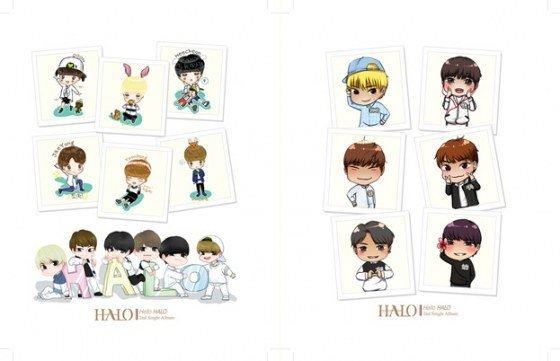 Source: Star News
Share This Post