Happy Birthday to A-Peace's Min Jin Hong and f(x)'s Krystal
Happy Birthday to A-Peace's Min Jin Hong and f(x)'s Krystal, who turned 22 and 21 on October 24th respectively. 
A-Peace's Min Jin Hong is only 22 years old, but has been part of the 15-member group since its formation in 2010, and is one of the two remaining founding members, along with group member Kim Wan Chul. The group's latest release was their third Japanese single, VEIL.
f(x) Krystal is also celebrating her birthday today, turning 21. 2014 has definitely been a big year for Krystal, despite the controversy involving her sister Jessica and SM Entertainment, Krystal has stayed calm and professional, focusing on her drama and activities with her group.
Meanwhile, Krystal recently fainted following her performance on stage at the recent SMTOWN concert in Shanghai, temporarily halting the concert. Fans showed their support for Krystal by trending the tag, #GetWellSoonSoojung on Twitter. On October 22nd, SM Entertainment confirmed that after suffering from a fainting spell during their concert on October 18th, Krystal took some time to rest before continuing with her ongoing schedule.
As usual, K-Pop fans have been celebrating the idols' birthday on Twitter, with the hashtag #HappyKrystalDay trending worldwide for her birthday.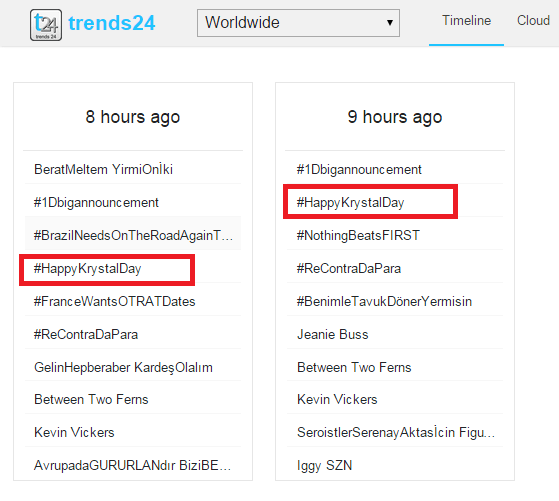 Once again, we wish Min Jin Hong and Krystal both Happy Birthday, and hope they can spend the day relaxing and spending time with friends and family!
Share This Post