Hwangbo apologizes for her improper statement on Twitter
Singer Hwangbo apologized for making an inappropriate statement recently through her Twitter account. 
On December 11th, Hwangbo posted a tweet full of discontent with the her apartment's security man. In the post she wrote, "I try to be nice to the security team but when I see the security man from my apartment, I no longer want to do that. I am really angry. I can't get mad at him so I just get angry. I better just say 'I am sorry' to him. If he finds this job difficult, then I hope he quits. I want him not to show irritation. Now we have to read the faces of security men."
However the singer's update gained much criticism as it related to the current issue in South Korea regarding the unfair treatment of security employees in an upscale apartment located in Gangnam. After getting negative attentions, Hwangbo removed the tweet and posted an apology, saying, "I apologize for the improper statement."
On December 10th, it was widely reported in South Korea how one of the residents in an apartment in Gangnam assaulted a member of the security team, breaking his nose in the process. It was revealed that the resident called the security to a shopping center nearby and attacked him asking, "What are you looking at?" The employee was eventually was sent to the emergency room and received medical treatment.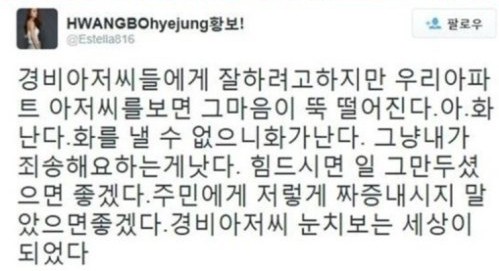 Source: Newsen
Share This Post