Fans claim it is hard to be I.O.I fans with news of members joining their future groups
Fans of girl group I.O.I are finding themselves having a difficult time after reports after reports regarding the individual members' future activities in their own agencies continue to be published.
When Produce 101 began airing, fans were aware that the 11-member girl group to be formed from the Top 11 winners would only promote temporary. Following their 10-month promotions, they would then return to their respective agencies and await to debut once again as either solos or idol groups.
With I.O.I officially debuting together with their first mini-album, currently promoting their title track "Dream Girls," other reports regarding their future after their 10-month began to be published online.
In particular, Kim Sejeong was confirmed to be debuting in Jellyfish Entertainment's upcoming girl group whose debut date was confirmed to be for June 13th. In addition to Sejeong, member Mina was also reported to be joining the upcoming 7-member girl group, meaning they may be simultaneously promote in both the new group and in I.O.I.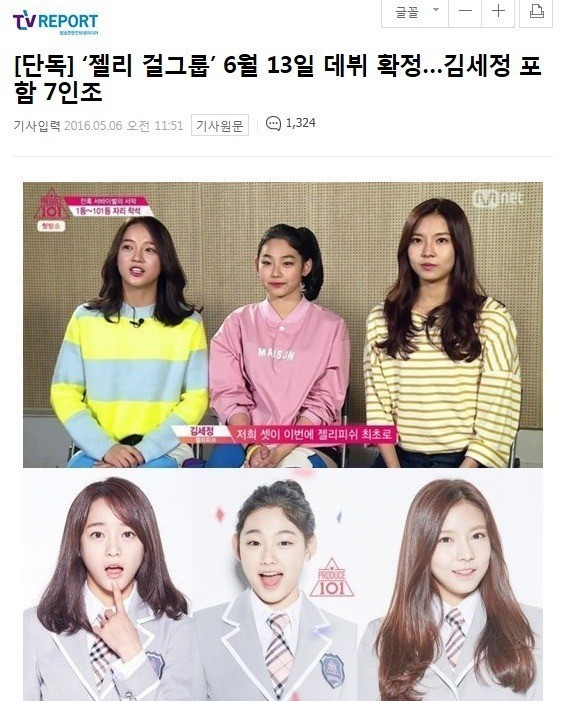 Furthermore, I.O.I's Jung Chaeyeon was also reported to be returning to girl group DIA (MBK Entertainment), who is also preparing a comeback as well. Chaeyeon originally debuted with the girl group in September 2015 but withdrew temporarily to participate in Produce 101, returning to her trainee status.
On May 11th, she was reported to have taken part in DIA's comeback music video recording on Jeju Island, indicating she has returned to her former group.
Despite having just debuted together as a group on May 4th with their mini-album Chrysalis, I.O.I is unfortunately just a temporary group and fans are starting to realize how hard it is to be a fan of them as a whole when they will ultimately part ways in 10-months, to promote separately under their own agencies as opposed to YMC Entertainment.
Are you finding yourself having the same problem as a fan of I.O.I?
Source: Instiz
Share This Post