Jessica reveals on Weibo, "The truth always comes out in the end."
Throughout the day of December 1st, Jessica held a Question & Answer session with her fans on Weibo, with two responses from her that might be hinting something with regard to her departure from Girls' Generation.
Jessica responded to her fans questions by leaving answers in the comment section of her latest post from November 30th. She left 19 answers in total. While 17 of the responses seem like normal lighthearted chatting replies, 2 of them have sparked interest among the public. The first was "The truth always comes out in the end." and the second being "Honesty will always get you farther in life than lies ever could."
Jessica also mentioned in one of her other answers that she love the lyrics of Taylor Swift's "Shake It Off", in which the chorus sings "The haters gonna hate, hate, hate; Heartbreakers gonna break, break, break; And the fakers gonna fake, fake, fake; I'm just gonna shake, shake, shake Shake it off, Shake it off".
It is not known which questions she is directing those answers to, but netizens are wondering if it is related to her broken relationship with Girls' Generation or her new relationship with Tyler Kwon. While it has been slightly more than 2 months since she stopped participating in events with Girls' Generation, Jessica was recently spotted in Macau at a boxing match with Tyler Kwon.
There has also been news spreading from Reggie Martin that Jessica might be debuting as a solo artist, while Girls' Generation member Sunny recently left a mysterious message on her radio show, seeming asking for Jessica to "come home".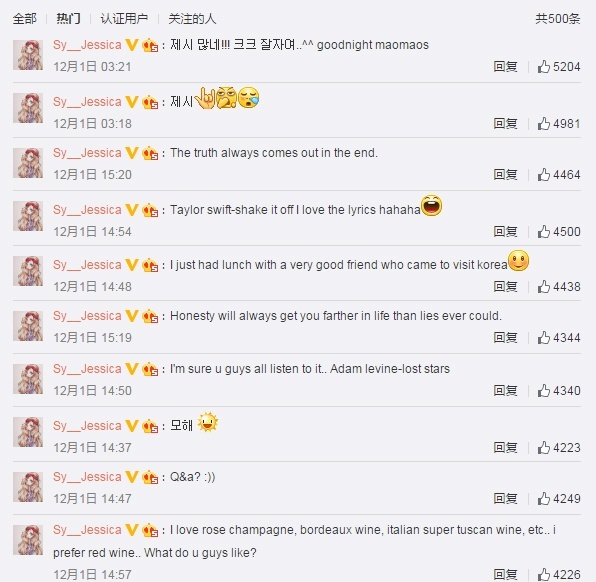 Share This Post