Jun Hyun Moo to continue as MC for "Hidden Singer 4"
The silver-tongued broadcaster Jun Hyun Moo, is confirmed as the MC for JTBC's Hidden Singer 4. He is to continue his humorous and well-spoken manners that he showed in the previous three seasons of the show.
CP Jo Seung Wook of Hidden Singer reported, "Jun Hyun Moo is to take over the MC spot for this season as well. He is an eloquent speaker and a great MC, so I have no concerns for him."
Currently, the production team has embarked on auditioning vocal doppelgänger contestants for previous seasons' singers as well as new singers including Baek Ji Young, Park Jung Hyun, Sung Si Kyung, Lee Moon Sae, Lim Chang Jung, Jang Yoon Jung, WheeSung, Kim Hyun Sik, Shin Hye Chul, Michael Jackson, Taeyang, Rain, The One, BoA, PSY, Yoon Mi Rae, Yoo Jae Ha, MC Mong, K.Will, and Lee Hyori.
Meanwhile, Hidden Singer has garnered attention for its creative content showcasing strikingly similar vocal doppelgangers of many famous singers. Its upcoming season is set to broadcast towards the final quarter of this year.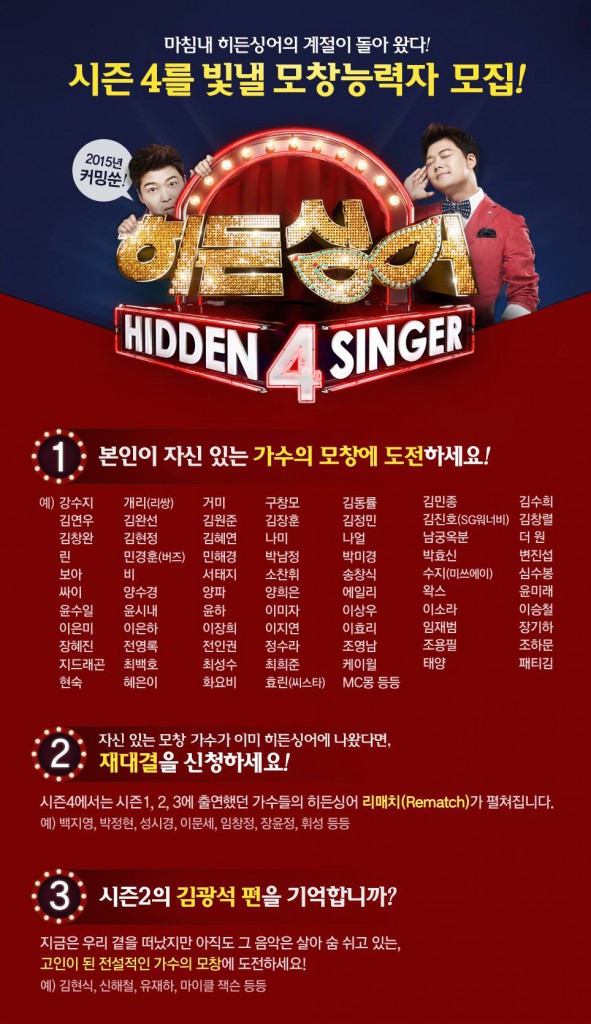 Source: TV Report
Share This Post