Jun Hyun Moo under fire for making Hani cry at the "Seoul Music Awards"
Entertainer Jun Hyun Moo is receiving backlash over his comedic puns towards EXID's Hani and Junsu while hosting the Seoul Music Awards. 
On January 14th, Hani joined Jun Hyun Moo and Honey Lee as hosts for the yearly awards ceremony, but was eventually teased live with a joke about her relationship with Junsu. As the ceremony progressed, audience cannot help but spot Hani looking blank and awkward, seemingly tearing up, after she was continuously teased about her relationship.
The conversation took place as follows.
Jeon Hyunmoo initially made a joke about being surrounded by Hani and Honey (very similar spelling in Korean) to which Hani responded "Call me Cool Hani". Jeon Hyun Moo then responded. "How's Junsu Hani? (Junsu in Korean means well above average)" teasing her about her newly revealed relationship. Lee Honey playfully chastised him for the remark to which Jeon Hyun Moo answered jokingly. "Hani really is junsu (well above average)"
Seeing Hani's tears, Honey Lee reportedly made an attempt to stop Jun Hyun Moo, but was eventually teased for her relationship with G.O.D's Yoon Kye Sang instead.
After the photos were published online, netizens and fans alike cannot help but dissect the reason behind Hani's tears. Some argue that it was due to the burden of publicising her relationship, added by Jun Hyun Moo's teasing on air. However, others speculated that her tears may be due to Junsu's inability to attend the ceremony despite winning the popularity award.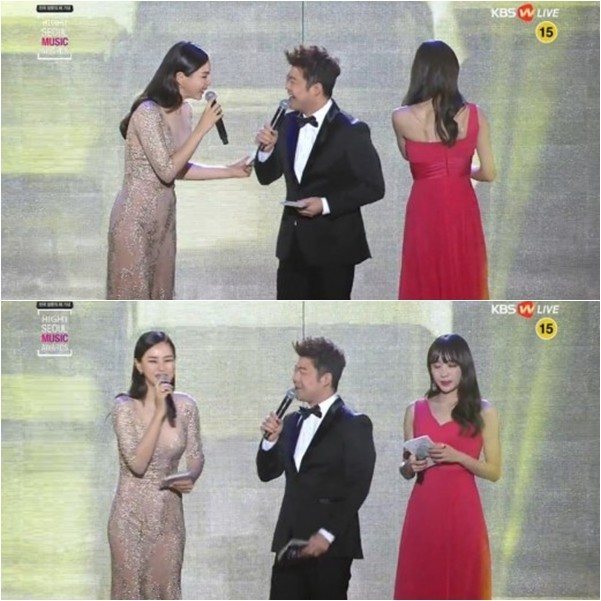 ---
NETIZEN REACTIONS
Koreaboo has collected reactions from Netizens who commented on the original article from our Korean source. The below comments are the most popular comments at the time of this article being published.
---
[+ 2863, – 316] She must be really stressed out ㅜㅜ the pressure must really be too much..I just wish she could have a beautiful and lovely relationship at the age she's at without any pressure.
[+ 2653, – 781] He's still the same with his annoying mcing…Jeon Hyun Moo…strong against the weak and weak against the strong…he couldn't even speak properly in front of Lim Jae Bum. Such scum
[+ 2465, – 645] They're probably happily in a relationship…why did he need to do that…he should consider the other party before he speaks..
Share This Post