[★TRENDING] Justin Bieber follows GOT7's Bambam on Twitter
On January 28th, Canadian pop star Justin Bieber followed GOT7's Bambam on Twitter about which the rookie boy band member tweeted before promptly deleting his tweet.
Bambam's tweet thanked the international celebrity for following him, however, his tweet can no longer be found, leaving fans wondering why the tweet was deleted.
Bieber is still currently following Bambam and IGOT7s have been buzzing about the follow with some hoping for a collaboration while others hoping it is nothing more than an interest in K-pop from the pop star.
Rumors were circulating earlier this week that there was a collaboration in the works between Bieber and K-Pop icon G-Dragon, however, YG Entertainment stepped forward to put those rumors to rest.
Meanwhile, the JYP Entertainment rookie group recently celebrated their first year since debut and is currently wrapping up their Asia Showcase tour which stopped in Taipei, Shanghai, and Hong Kong. Their new Chinese-Korean web drama Dream Knight premiered on January 27th after teasing fans with still cuts and trailers for months.
Take a look at the deleted tweet below: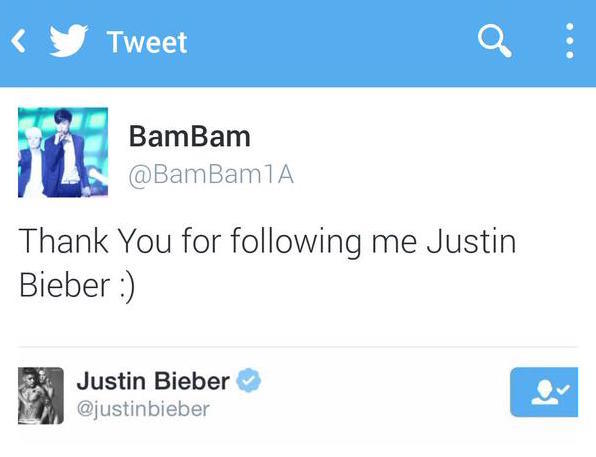 Share This Post