Kim Jong Kook Becomes Extremely Shy During "Troublemaker" Dance With I.O.I's Kim Sejeong
In the latest episode of Talents for Sale, Kim Jong Kook and gugudan and I.O.I member Kim Sejeong partnered up to show viewers the dance steps to the popular "Troublemaker" track.
Aired on July 8th, the MC and guests paired up for the charity shopping television-like show with Kim Jong Kook with Kim Sejeong, Kim Jong Min with EXID's Hani, and Julien Kang with Kim Si Young.
For the episode, Kim Jong Kook and Kim Sejeong created dancing classes to raise money, teaching "Troublemaker" to the cast. While dancing, the singer, who is known for his intellects and outgoing personality, suddenly became shy as he and his partner began to dance. When confronted with his sudden shyness, he exclaimed, "It's uncomfortable!" causing laughter in the studio.
Fans of Kim Jong Kook know well how shy he is around women which is especially shown during his appearances on SBS's Running Man as he is even cautious to tear off female guests' name tags, opting to send someone else instead unless he absolutely has to.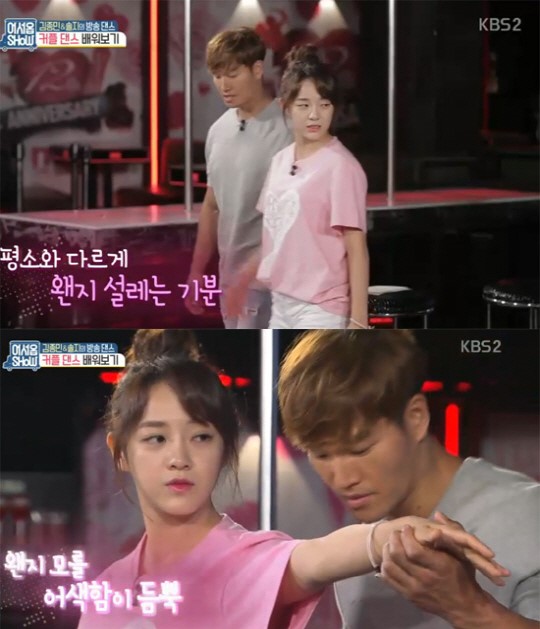 Watch their interaction during their "Troublemaker" dance below:
https://www.youtube.com/watch?v=hF4bVHZXYBw
Source: Sports Chosun
Share This Post