Kim Tae Woo's daughters take a snapshot with g.o.d at their latest encore concert
Kim Tae Woo's two adorable daughters, Too Yool and Ji Yool, made a visit and showed their support at g.o.d's encore concert held on October 25th 6pm KST in Seoul. 
Soul Shop Entertainment posted the photo of g.o.d and the two little girls posing together via their SNS, revealing the two little girls are close to the g.o.d's member. Too Yool is seen holding hands with Danny and Son Ho Young, who is holding the baby Ji Yool.
The younger baby Ji Yool recently garnered attention in a recent episode of SBS Oh! My Baby, where she chose Son Ho Young over her own father, Kim Tae Woo.
Meanwhile, g.o.d's encore concert ended successfully with 40,000 audience members. The fans were in frenzy to meet g.o.d again after 15 years, filling the arena with sky blue balloons as g.o.d held special events for the fans.
Yoon Gye Sang expressed his feeling of the night, "I'm really happy. Recently, I realized I used the two words 'happy' and 'thank you' a lot. We have been racing towards success for a long time. We did not know who were the ones beside us. But to think of it now, success is not the only important thing in life. I realize that reuniting with our members, recording, and hanging out together were all real happiness to me."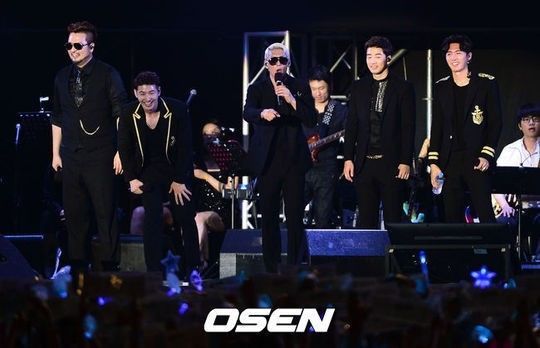 Share This Post