Korean women have won every professional golf tournament in 2015 so far
Since the start of the 2015 golf season, prominent women golfers, all born in South Korea, have been winning every tournament both in the LPGA (Ladies Professional Golf Association) and the LET (Ladies European Tour).
Pro golf players such as Park Inbee, Ryu So-yeon, Choi Na-yeon, and 17-year-old Lydia Ko (who at 15 became the youngest winner in LPGA history) are among the winners since the start of 2015.
Friends on and off the course, Park Inbee and Ryu So-yeon both competed in the LET (Ladies European Tour) Mission Hills World Ladies Championship this past Sunday, with 24-year-old So-yeon beating Inbee by just one stroke. 
Lydia Ko also is noted for her two consecutive victories in February, taking 1st place in both the ISPS Handa Women's Australian Open and the ISPS Handa New Zealand Women's Open, where she curently resides. She was the youngest player to win the Australian Open and had an exceptional victory in the New Zealand Open as well.
Below you can see the names of the Korean woman golf players who have dominated the opening bunch of tournaments for the 2015 season.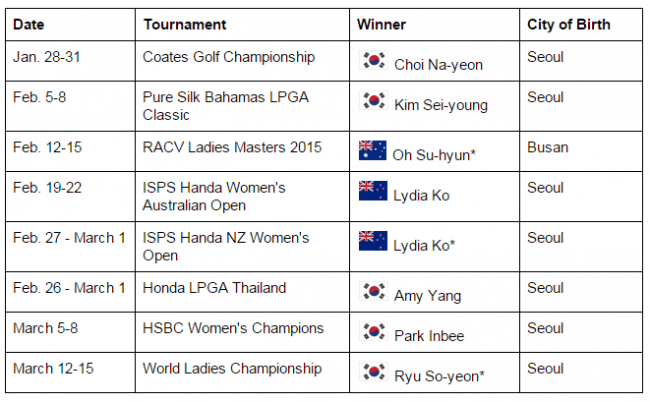 Sources: Korea Times, BBC Sports 
Share This Post