Lee Soo Hyuk publishes his first Weibo post with photo ft. Aaron Kwok
After greeting his Hong Kong fans at a scheduled event, Lee Soo Hyuk is now on Weibo to interact with fans through a new social networking portal!
Lee Soo Hyuk attended the Asian Film Awards in Hong Kong on March 22nd, bringing home the "Rising Star of Asia" award. After reaching back in Korea, the model-turn-actor created his personal Weibo account with his first post on March 24th!
The celebrity has updated his account with three posts ever since, with the first showing his English fluency, "real leesoohyuk. pls enjoy. xxx." 
In his second update, he addressed the misspelling of his Chinese name in Mandarin, "Li Zhu He (李洙赫) is the correct form of my Chinese name, I hope everyone calls me Li Zhu He in future." He then shared a friendly photo taken with legendary Hong Kong artist Aaron Kwok, each holding an award in their hands.
The actor has also confirmed his "LEESOOHYUK_OFFICIAL" account through an Instagram post. He also started following BIGBANG's G-Dragon and fellow model-turn-actors Kim Young Kwang and Kim Woo Bin.
Other K-artists who have just joined Weibo this month include BTS, Nicole, and 2NE1's CL.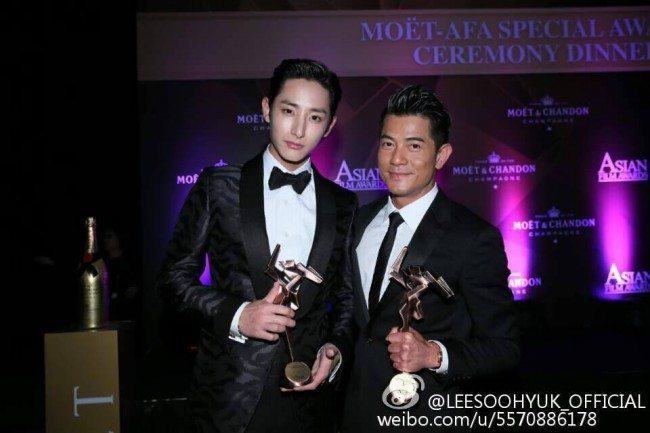 [instagram://0nIygkML6R]
Share This Post