Antis catch Taeyeon's sloppy nose job in recent CF
A past CF by TaeTiSeo has been the talk of town with fans closing in on a zoomed-in loop of Taeyeon's nose.
In a commercial for the sweets brand Buon Gelato, the Girls' Generation sub-unit proved that they could be equally sweet by dancing with macarons and ice cream cones.
However, amidst the colorful and sugary fun, a short clip from Taeyeon's portion has caught the attention of fans. On a popular internet forum, a post accompanied by a looped gif read, "I guess this is why you shouldn't get surgery for the sake of it. Look at her nose, it's moments away from falling apart. Her nostrils are all crooked."
Viewers have pointed out that in the isolated clip, Taeyeon's nostrils appear to be misaligned, leading them to say that the artist should get maintenance done on her nose job.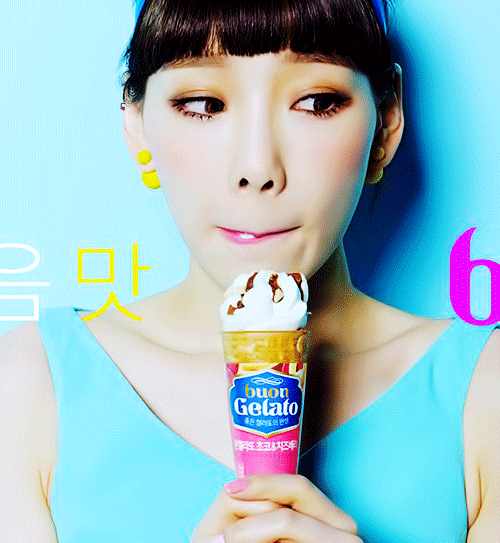 Many commenters seem to agree with the original poster's sentiments while others  sharing a whole host of messages:
---
NETIZEN REACTIONS
Koreaboo has collected reactions from Netizens who commented on the original article from our Korean source. The below comments are the most popular comments at the time of this article being published.
---
1. [+175, -21] Wow, this actually looks really serious
2. [+148, -4] I know this is totally random but that ice cream is seriously so delicious. There's another flavor called choco and cookie and it's the best flavor I've ever tasted. Only costs a buck in front of my house.
3. [+136, -47] Kind of gross to see her trying to look all cute and pretty with her nose like that
4. [+86, -1] She 100% got her nose done but it seems she needs to go back for maintenance ㅋ
5. [+80, -3] I'm not trying to be mean but wow, isn't that a really serious problem???? Does she know what's going on with her nose?? I'm not being mean, I just want to know..
6. [+67, -16] She needs to get more hate for her actions, not only her face.. putting down black people, putting up the middle finger mid-broadcast, etc.
Check out the full CF here:
https://www.youtube.com/watch?v=ifICV0wHHNo
Source: Pann and Netizen Buzz
Share This Post