Netizens challenge fans to listen to Goo Hara's MR-Removed performance until the end
A netizen on Pann challenges fans to listen to Goo Hara's MR-Removed performance video to the end.
Last week, Goo Hara made her solo debut with her new track "Choco Chip Cookie". Although many people doubted her vocal abilities, many of KARA's fans defended her as she made her solo debut as a singer.
However, after Goo Hara's latest live performance, a MR-Removed video has been going viral in Korea, highlighting her singing abilities.
In the post originally titled "Goo Hara's "Choco Chip Cookie" MR-Removed hahahahahahahahahahahahaha," netizens challenge anyone to finish the video until the end.
Here is the direct translation of the post and the comments below:
"hahahahahahahahahahahahahahahahahahahahahahaha
If anyone can listen to this video until the end, I'll give mad props hahahahahahahahahahahahahahahahahaha
I know her appearance is on the top, yes yes.
It doesn't matter if plastic surgery was applied or not. I'm jealous of her looks and appearance
But she isn't an actress nor model but a singer hahahahahahahhaahahahahahahhhahaahahhaha
If you're going to make a solo debut, at least have average vocals hahahahahahahhaahahhahahaa"
https://www.youtube.com/watch?v=nRGVzlEHW38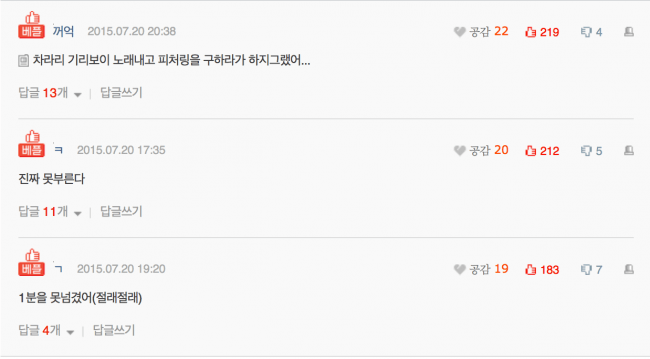 [ +219 / -4] Giriboy should have rather released the song with Goo Hara featuring on it….
[ +212 / -5] She really sucks at singing
[ +183 / -7] I couldn't go over 1 minute (Shakes head)
Source: Pann
Share This Post