Netizens protect AOA's Jimin for alleged rudeness towards Kyuhyun
With articles detailing AOA's Jimin's alleged rudeness emerging, netizens have been quick to gather and protect the girl group member.
AOA member Jimin appeared on the program Radio Star on July 22nd. A new controversy regarding her alleged rudeness towards host and Super Junior member Kyuhyun arose on the internet after the show ended.
Originally titled "AOA Jimin, Alleged Rudeness On Program," here is the full translation of the article and the comments below!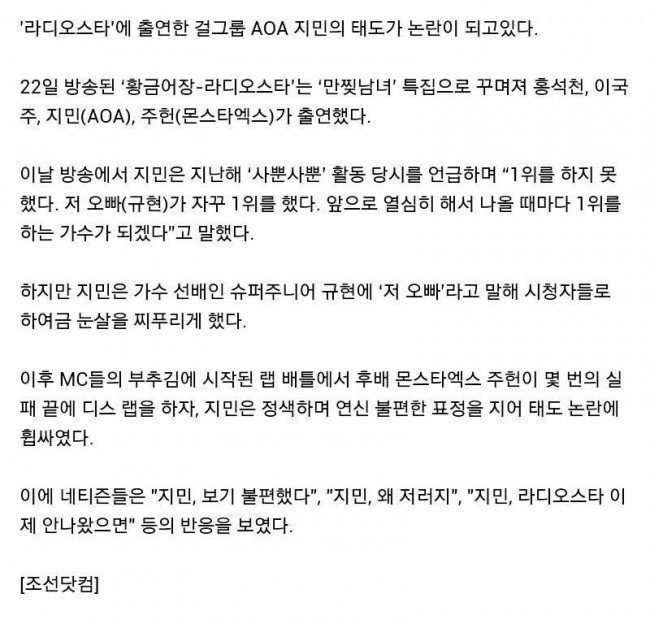 Chosun article:
AOA member Jimin's alleged rudeness on Radio Star is becoming an issue.
On the program, Jimin was asked a question regarding AOA's promotion for "Like a Cat." After she was asked about their last promotion, she answered, "we couldn't get first place. That oppa (Kyuhyun) kept getting first place. We will train and become singers who get first place every time we come out."
During the program, the MC hosts also asked for a diss rap by MONSTA X member Jooheon. Jimin was seen making a serious face during this after Jooheon finally completed his rap after repeatedly failing to do so. This also made viewers uncomfortable watching the show.
The fact that AOA Jimin called Kyuhyun, who is a senior artist, "that oppa," became a topic to discuss among netizens after the show. Some netizens stated, "I felt uncomfortable seeing Jimin," "why is Jimin acting that way," and "I hope Jimin doesn't come out anymore.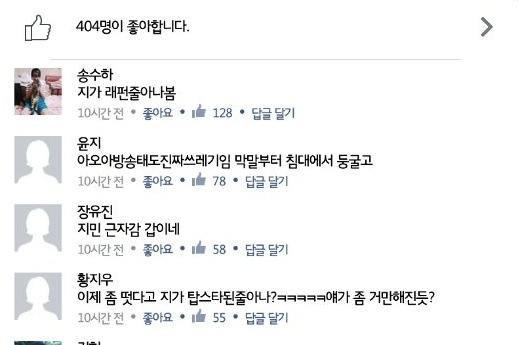 [+128] She thinks she is a rapper or something
[+78] Her state of mind on the program was trash. She kept throwing rude words and made herself too comfortable on the show.
[+58] She really is the best for having confidence from nowhere
[+55] Does she think she is a top star after having some popularity? hahahahaha I think she became a little cocky?
https://youtu.be/VY9-EP7bx0g
https://www.youtube.com/watch?v=who5bkdgQx8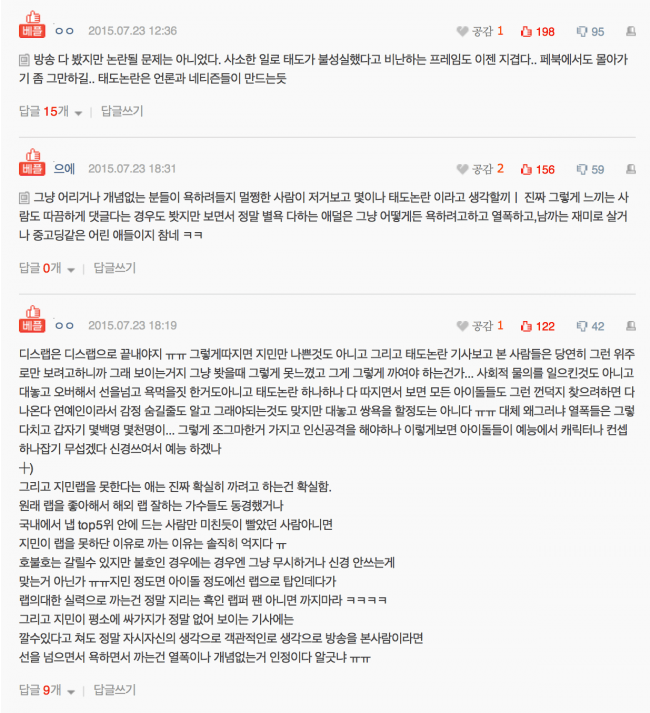 [+198, -95] I saw the whole program but it shouldn't be a controversy. I hate how everyone is making a big deal out of small things.. Stop trying to make it worse than what it is through Facebook.. I believe controversy is created by the media and netizens
[+156, -59] I think only immature people will think this is a controversy. I know there are people who actually comment because they feel that way but there are people who just comment whatever they feel and use insults. These middle school and high school children enjoy insulting others.
[+122, -42] Diss rap should end at diss rap 🙁 If you think of it that way it's not only Jimin's fault. And people who read those articles will watch the video thinking that way and I don't think she deserves the scorn…. She didn't affect society and she didn't do anything that deserves so much scorn. If you try to find flaws of celebrities, it'll be easy to find. I know the celebrities should hide their true feelings but this doesn't deserve these absurd insults 🙁 Why are you guys acting this way, not even by the hundreds but by the thousands… Why attack the person because of a small thing. I bet celebrities have a hard time making a concept or an image for themselves on variety shows due to these reasons.
+) And I believe that kid who is dissing Jimin's rap is really trying to insult her for sure. I think it is a little too much to insult Jimin on her rapping skills unless you love rap and always admired rappers. Or you love any top five rappers in Korea 🙁 I believe if it doesn't concern you, you could turn the other cheek 🙁 Jimin is actually a good rapper in Korea but she doesn't deserve the scorn unless you're a black rapper's fan hahahahaha And I don't mind people scorning her due to her rudeness on other articles if she was acting rude but personally, after seeing the program, she didn't cross the line in any way. I don't understand people crossing the line to insult her.
Source: Pann
Share This Post