Netizens speculate identity of "IDOL GIRLFRIEND" involved in drunk driving accident
When news broke out that a top female idol was involved in a massive five car pileup in Gangnam, netizens were quick to speculate who the idol was. After several days, however, netizens are still speculating without any clear results. 
On March 21st, an Audi R8 crashed into a taxi cab resulting in a chain of accidents which involved five cars and injured 10 people. Among the injured was a "top female idol," who was revealed to be the girlfriend of the 30-year old Audi driver "Yeon." The driver was later revealed to have had an alcohol level of 0.106% during the time of the accident, and was reportedly cussing excessively at the police while being questioned at the scene of the crime.
Although the identity of the idol in question was not revealed by the police, the driver mentioned that her name contained the letter "J," causing netizens to speculate and theorize about the idol's identity. At the time, there were allegations that the idol was SPICA's Jiwon based on several photos released by the media. However, the allegations were proved false.
Based off video footage from the scene and a clip of her voice, netizens have tried to discover the idol's identity, but to no avail yet leading to frustration and several new theories.
There are currently now two popular theories among fans. One speculation was that it wasn't really a famous idol, but rather a really good looking female. The second theory is that the idol belongs to a huge agency, who has the ability to obscure her identity.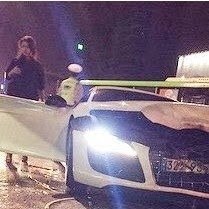 https://www.youtube.com/watch?v=C8OCVuKgBDE
Share This Post