KBS's "Sister's Slam Dunk" Unnies Make Their Debut on Music Bank with "Shut Up"
After months of hard work, the cast of KBS's Sister's Slam Dunk had officially made their debut as a girl group on the most recent episode of Music Bank.
Introducing themselves as the Unnies, the female cast reveals their perfected performance on live broadcast with their hit track "Shut Up." Owning the stage like professional performers despite nearly half the team's main career path being either a comedian or actress, Unnies showed off their amazing teamwork as they successfully completed their stage.
Unnies' members are made up of Girls' Generation's Tiffany, comedian Kim Sook, comedian and actress Hong Jin Kyung, actress Min Hyorin, actress Ra Mi Ran, and singer-rapper Jessi of Lucky J.
Their first single "Shut Up" was released on July 1st, features Yoo Hee Yeol and was produced by JYP Entertainment's J.Y. Park. Since it's release, it has topped several online charts in #1 and is currently topping their daily charts in #1 as well, beating out tracks released from Mnet's Show Me The Money 5.
https://www.youtube.com/watch?v=g4VT4ii0ZiQ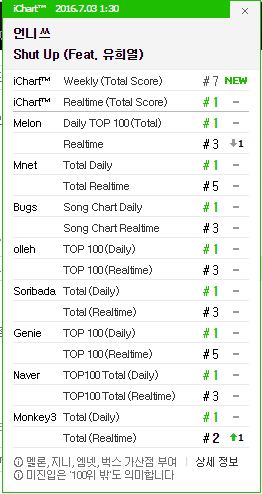 Share This Post