10 Times K-Pop Idols' Actions Got So Out Of Control, Their Agency Had To Take Action
What is going on? These idols sure are wild!
We all love it when our idols are being complete goofballs and showing their unique personalities, but sometimes their goofiness can get a little out of hand. In these cases, their agencies have had to step in and set things straight to keep their charges out of trouble. Whether or not it works is another story!
1. BIGBANG T.O.P's Instagram posts
If you've ever visited T.O.P's Instagram page you know that he can post some really weird things.
We mean really weird things!
Or pretty normal things with… interesting captions.
They've been so weird that YG Entertainment has had to step in on a couple of occasions and let everyone know that, no, his account wasn't hacked, and yes, he can be a pretty weird guy.
2. MONSTA X's livestream problem
A lot can go wrong during a livestream or something could be taken in a bad way. Like this livestream of MONSTA X.
It had many, many people wondering what was going on.
And Starship Entertainment decided to edit the video for any future viewers.
3. JYJ Jaejoong's speeches
Jaejoong had some major problems when he made his first debut with TVXQ. He would go off on long tangents and his thought process often had people scratching their heads.
So Jaejoong was pretty much told not to talk on television his first couple of years as an idol.
When that kind of backfired because people either thought he was creepy for not talking or he talked anyway, his company once again stepped in and allowed him to talk once more!
4. TWICE's never ending spoilers
Companies don't generally like it when idols give out spoilers for their comebacks unless they specifically want to release spoilers.
ดูความขี้สปอยด์ 55555 #TWICE #트와이스 #KNOCKKNOCK pic.twitter.com/Wwffo1iRJX

— PRIMWDF (@PC_VizaRD) February 1, 2017
So TWICE have gotten scolded on multiple occasions by their managers for giving hints about their next comebacks.
5. BTOB's porn talk
One time BTOB were scolded by their managers for talking about porn. Did that stop them? Nope! Instead, they talked about getting scolded even at the risk of further scoldings in the future.
6. BIGBANG Daesung's foolish looks
Daesung really let his wild side shine on Family Outing.
So much so that Yang Hyun Suk totally called him out for it and jabbed a little fun at Yoo Jae Suk while he was at it!
7. Girls' Generation being too hyper
Girls' Generation has always been brimming with the girls' hyper and wild personalities.
SM Entertainment once tried to tell them to tone it down. We're just not sure it really worked!
8. BTS Jin's condom controversy
Who doesn't remember when BTS's Jin was having a simple livestream…
When netizens noticed the king-sized condoms hiding in the background.
The whole incident gained so much attention that Big Hit Entertainment had to make an official statement that it was, in fact, a condom and that the group got it in their fan gifts!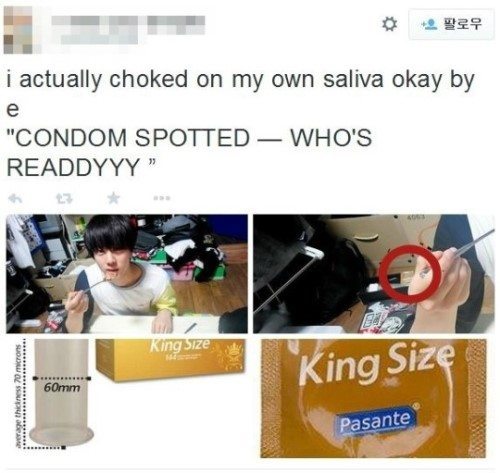 9. BEAST's public actions
When BEAST debuted most of the boys had certain restrictions placed on them in public. Doojoon wasn't allowed to wear shorts.
Junhyung wasn't allowed to take off his sunglasses.
Hyunseung wasn't allowed to talk.
And Gikwang wasn't allowed to take off his clothes!
10. 4MINUTE Jiyoon's sunglasses snafu
BEAST wasn't the only group to have certain restrictions placed on them. 4MINUTE's Jiyoon was also told to keep her sunglasses on at all times!
Share This Post