9 Celebrities Who Had Near-Death Experiences And Lived To Tell The Tale
These idols are extremely lucky to be alive!
These idols had some extremely close calls, and fortunately, things didn't turn out for the worse. Here are some of the most serious accidents and injuries that happened to idols.
1. TVXQ's Yunho
Yunho was once handed a drink (filled with superglue) by an anti-fan disguised as a fan. He realized something was wrong with the drink halfway and was immediately rushed to the hospital. He doesn't remember much because he fainted soon after he drank the contaminated orange juice but according to members he coughed up blood on his way to the hospital. He was able to recover completely from the incident. However, he said he couldn't drink orange juice for a long time because he was traumatized after the incident.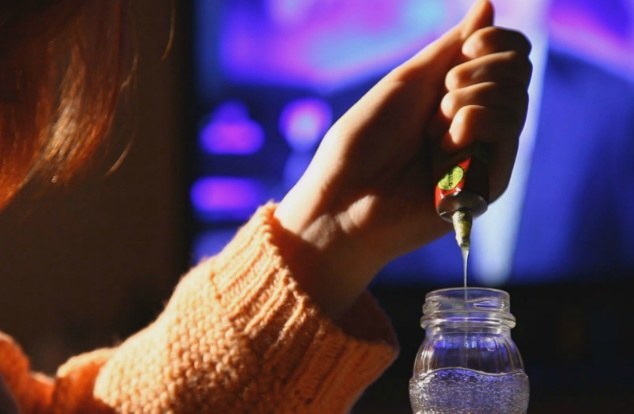 Below is an actual picture of the orange juice and if you look carefully you can see the hardened glue near the top of the bottle.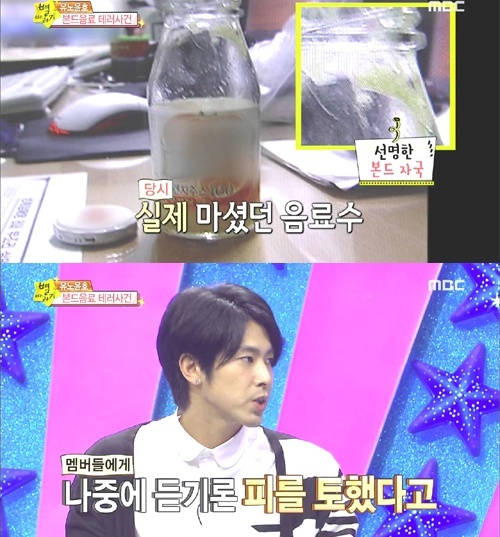 2. Noh Hong Chul
Noh Hong Chul was randomly assaulted in front of his house in 2008.
The culprit was suffering from a mental disorder and claimed that he felt as if Noh Hong Chul was trying to harm his father whenever he saw him on TV. Noh Hong Chul did not retaliate and took the beating to not provoke the culprit further.
 Several bones were broken including his ribs, and the assailant had a knife concealed in his pocket. Luckily the police took the man into custody and Noh Hongchul was saved. Despite the brutal attack, Noh did not wish to press charges, but rather help the man get over his mental condition.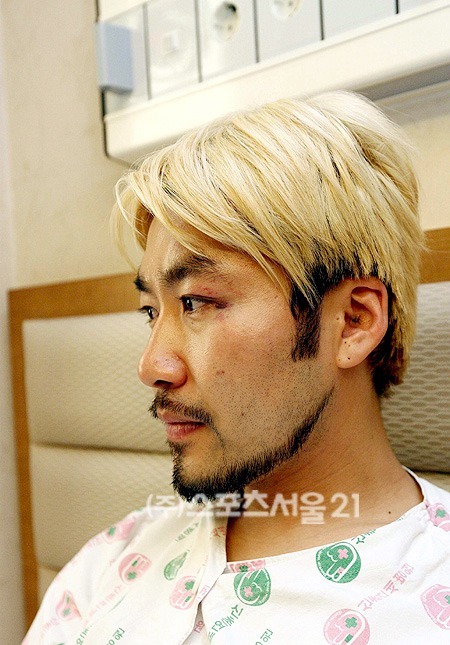 3. SHINee's Onew
In 2009, during "Music Bank" the stage lighting apparatus and frame collapsed, hurtling towards Onew. Startled and shocked, Onew fainted on the spot and could have been crushed below it if Kyuhyun and other staff didn't grab the supports and prevent it from falling on him.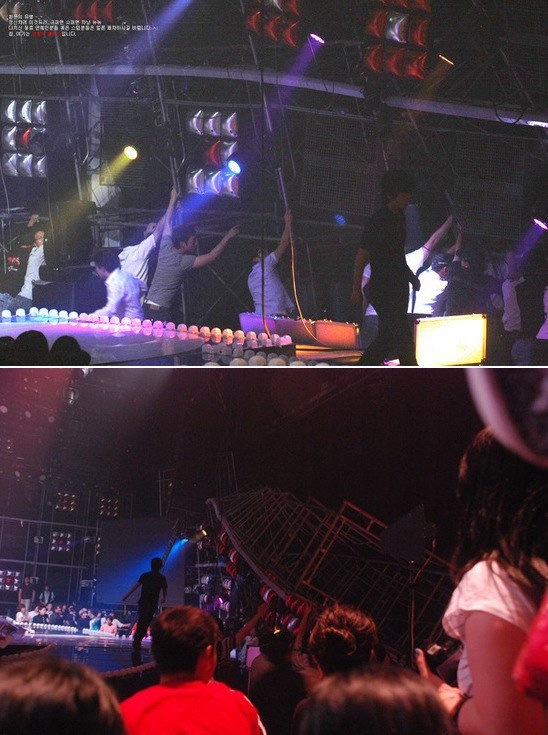 4. Super Junior's Kyuhyun
In 2007, Super Junior's van was involved in a severe traffic accident that resulted in a few of their members getting injured. Of all the members, however, Kyuhyun was most severely injured.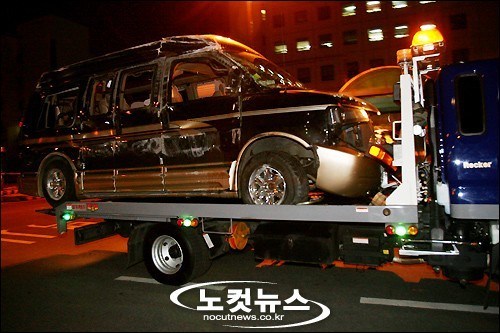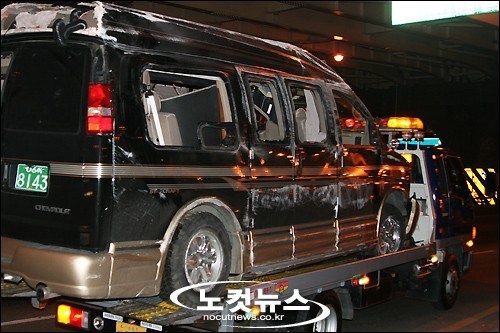 Kyuhyun was shot out of the car when the accident happened and the force dragged him on the road for approximately 4~5m. Much of the flesh on his legs were torn off and all his ribs and his hip bones were shattered.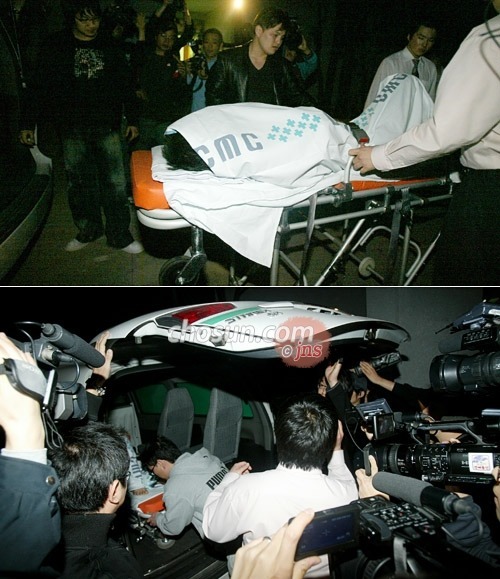 When he was rushed to the hospital, the doctors told his parents, "Your son may die. Even if we perform surgery which involves opening a hole in his throat he only has 20% chance to live." At the doctor's words, his father (who had previously been dead set against his singing career) begged the doctor to find an alternate way so his son could sing when he recovered. The doctor found an alternative method and Kyuhyun fully recovered. Against all odds, Kyuhyun pulled through!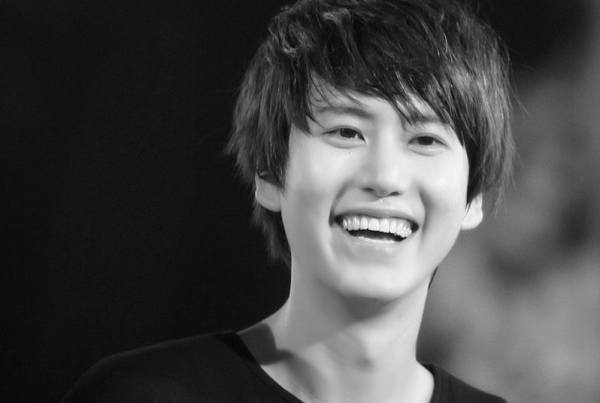 5. g.o.d's Son Hoyoung
In 2013, Son Hoyoung's girlfriend was found dead in Son's car. She had committed suicide through gas poisoning by lighting up a coal briquette while inside the vehicle.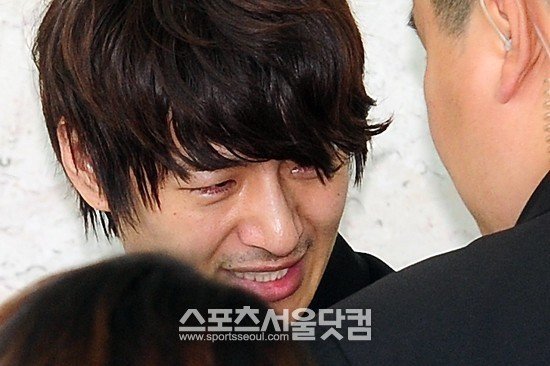 Soon after, Son Hoyoung attempted to commit suicide in exactly the same manner. However, the car caught on fire and Son in his groggy state had a change of heart and escaped the vehicle before he fainted.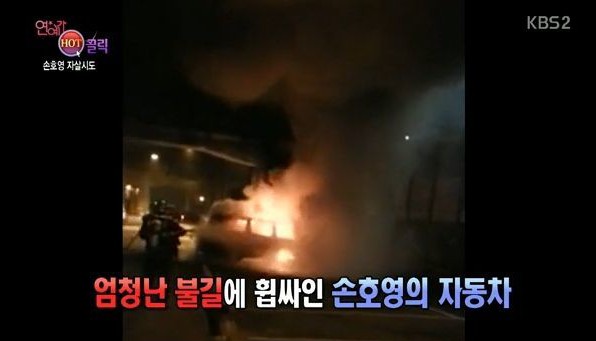 He was rushed to the hospital and spent more than a week recovering. In an later interview, he stated that he had suffered from depression and felt alone. He felt as if he had no one to count on and his girlfriend's death pushed him over the edge.
Since then, he has recovered and is now active as a part of the re-unified g.o.d.
6. Dal Shabet's Subin
Dal Shabet's Subin had an extremely close call when during a performance, the stage collapsed under her feet. While she was falling her face smashed into one of the outlets for fireworks. As a result she had to get a total of 16 stitches inside her lips from the damage. If she had been even an inch closer to the outlet she could have suffered irreversible injury or worse…
7. Lee Min Ho & Jung Il Woo
Lee Min Ho and Jung Il Woo were involved in a very dangerous car accident that killed the driver and another passenger. Both actors were treated in the hospital for months before he recovered.
Lee Min Ho suffered from multiple fractures on his leg and the cartilage in his knee was torn. He apparently still suffers from these injuries to this day.
Jung Il Woo suffered a concussion, brain hemorrhage, and partial amnesia in addition to a broken wrist and pelvic bone. Both actors were exempted from active military and are serving in public service.
8. Super Junior's Heechul
In 2006, Heechul got into a car accident on his way back home from the funeral of Donghae's father. He had apparently fallen asleep in the car and when he awoke, the accident had already happened. Heechul was left with an entirely broken left leg and ended up going into surgery which inserted 7 metal pins starting from his left ankle up to his hip bone.
Since the accident, Heechul cannot dance properly due to the repercussions of the accident.
Share This Post