FNC Entertainment contract period with their artists unveiled
The contract period between FNC Entertainment and their idol groups have been unveiled.
Currently, FNC Entertainment houses idol groups FTISLAND, CNBLUE, AOA, and N.Flying as well as solo artist Juniel.
In the chart given below, the original contract date is given along with the first date of renewal and the most recent contract's expiration month.
FTISLAND, who debuted in 2006, renewed their contract with FNC in 2013 for an additional six years and thus their contract with the growing agency is set to end on December 31, 2019. Similarly, CNBLUE, who debuted in 2009, renewed their contract in February 2014 for another seven years with their contracts set to end on February 10/12, 2021.
FTISLAND and CNBLUE are the only ones who have renewed with FNC thus far with AOA, Juniel, and N.Flying's 1st contract still ongoing until May 2019, January 2016, and August 2021.
This also brings to light that Juniel's contract with FNC will be ending in two months despite her contract starting in 2008 but only having debuted in 2011, bringing up the question as to whether she will be renewing or moving on to another agency.
Find out what Netizens had to say about this article below!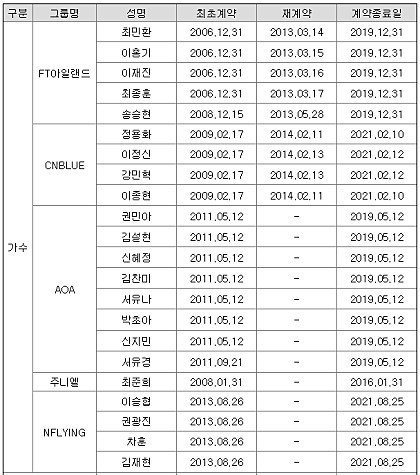 Translated by Koreaboo below: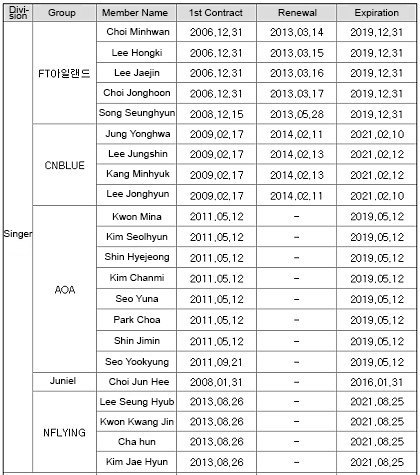 ---
NETIZEN REACTIONS
Koreaboo has collected reactions from Netizens who commented on the original article from our Korean source. The below comments are the most popular comments at the time of this article being published.
---
FT Island deserves praise…they matched their contract end dates even though they signed on at different times…shows you they're one 
개Personally i hope Jun Hee doesn't resign there hasn't even been a proper comeback and she said once that she feels like the more she works the mores she loses money….breaks my heart cause she could have done so much better.
I hope Juniel doesn't resign…people don't even know she made a comeback this year….
I understand male artists have long contracts because of the army but what's up with the contract duration with women….

2021…..ㅠㅠㅠ still 6 more years with FNC…
Source: Instiz
Share This Post