G-Friend's big appetite as a group regains attention following new track release
With the official release of their new mini-album Snowflake and the title track's music video "Rough," attention towards G-Friend's large appetite has re-emerged. 
The original broadcast in discussion in discussion is from October 2015 when the girl group appeared on MBC Every1's Weekly Idol.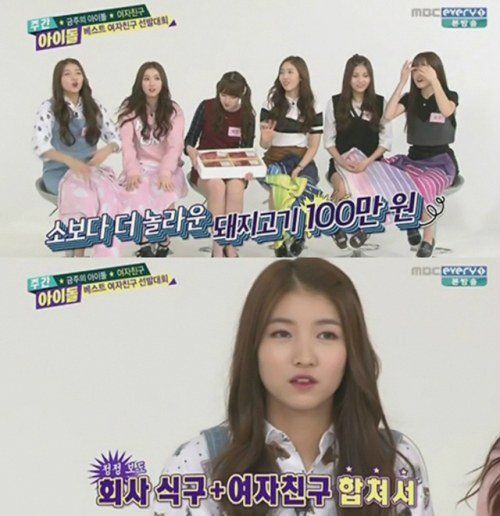 On the show, they showed extreme affection for meat as they battled to win a mission for Hanwoo meat (premium beef) for themselves (one member only). They then revealed that they hadn't eaten meat in awhile, forgetting the taste of it already.
Their manager went on to add, "That's not it. We ate pork meat during dinner, the bill came out to more than 1 million won ($834 USD)," outing the group on their large appetite.
G-Friend tried to clarify, saying, "It was when the whole company and we ate together," arousing laughter for correcting their manager but who still insisted they ate a lot of meat as well.
The episode hilariously continues as the MCs of the show insisted to the manager to call their CEO and ask him to buy meat for G-Friend after their schedule was over for the day.
Source: Segye Ilbo
Share This Post