19 Songs Korean Celebrities Recommend Fans To Listen
Are you in need of a new music playlist to listen to during a long day? Get ready to create the most epic playlist as these have been recommended by some of the most well-loved Korean stars!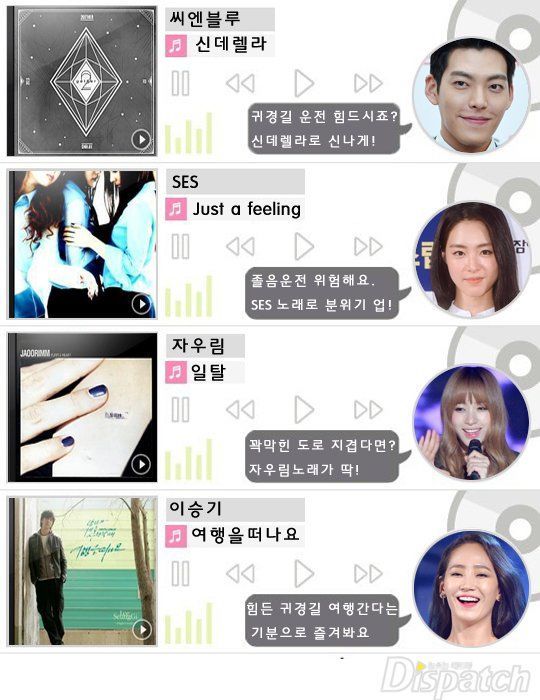 Exciting dance tracks that will soothe your heart. First up is actor Kim Woo Bin who reveals he enjoys CNBLUE's "Cinderella" when he feels alone.
#1 | CNBLUE's "Cinderella"
Kim Woo Bin: "When you're stuck in traffic and feeling bored? Cinderella is the answer. My beloved brother sang the song. Please listend up!"
#2 | S.E.S "Just A Feeling"
Lee Yeon Hee: "This song will keep you upbeat and happy with. I recommend SES's 'Just a Feeling'
#3| Ja Woorim "Escape"
EXID: "It will make you let go of all your stress~!"
#4 | Lee Seung Gi's "Let's Go On A Vacation"
Wonder Girls' Ye Eun: "Listening to this song while driving makes me excited and happy"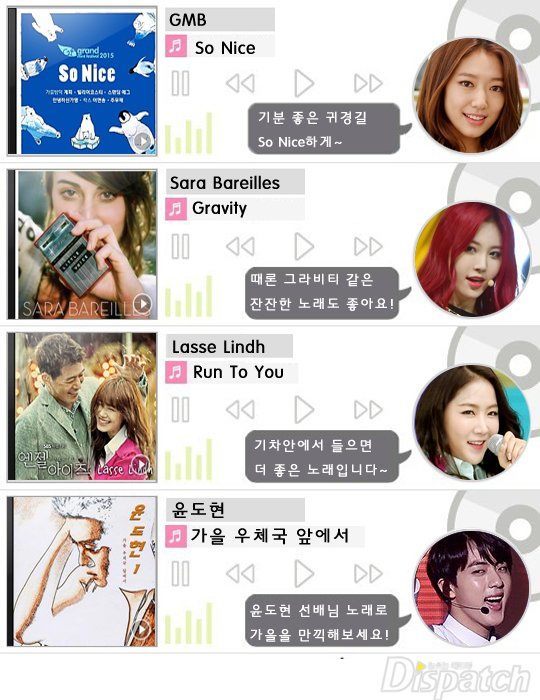 Let's turn to more calming songs. Songs that will make your heart pit-a-pat or those who are of the healing genre. You'll be surprised as to which songs these stars picked.
#5 | GMB's "So Nice"
Park Shin Hye: "With this song you will always feel 'so nice'."
#6 | Sara Bareille's "Gravity"
Girl's Day's Yura: "I actually listen to calm songs when I feel down. I'm sure there are a lot of you out there like me"
#7 | Lasse Lindh's "Run To You"
SISTAR's Soyou:  "I am run-running to you will definitely keep playing in your head after you listen to this."
#8 | Yoon Do Hyun's "In Front of the Fall Post Office"
BTS: "This song reminds me of a quiet country side. I want to shared this with my fans."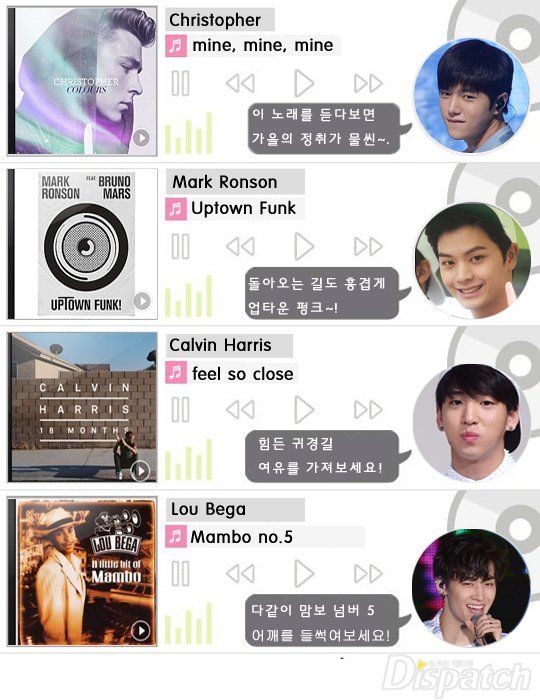 So bored you're falling asleep? Here's some songs idols are recommending that's guaranteed to wake you up!
#9 | Christopher's "Mine, Mine, Mine"
INFINITE: "Play the song and open your window and breathe in deep~~can you smell the scent of autumn?" 
#10 | Mark Ronson's "Uptown Funk"
BTOB: "Energize your boring daily routines with "Uptown Funk"!"
#11 | Calvin Harris' "Feel So Close"
B1A4: "This song goes perfectly with the beautiful weather these days."
#12 | Lou Bega's "Mambo No.5"
GOT7: "This song never fails to make me dance"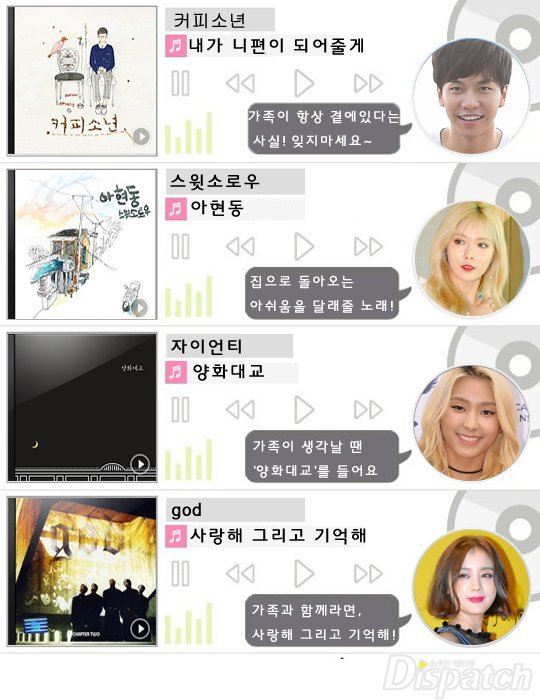 When you're away from home, you'll start to miss and think more of your family. This time, the theme is "family."
#13 | Coffee Boy's "I'll Be On Your Side"
Lee Seung Gi: "This song reminds me of family. We too often forget that they are always there for us"
#14 | Sweet Sorrow's "Ahnyeondong"
4MINUTE: "This song reminds me of the comfort of my house and my family"
#15 | ZION.T's "Yanghwa Bridge"
SISTAR's Bora: "When I think of my family I always listen to this song. The lyrics "Mom let's be happy. Don't ever be sick, please don't you ever get sick" touches me every time" 
#16 | g.o.d's "Love and Memory"
Wonder Girls' Hyerim: "Sing it with me ' I love you and please remember'~~~"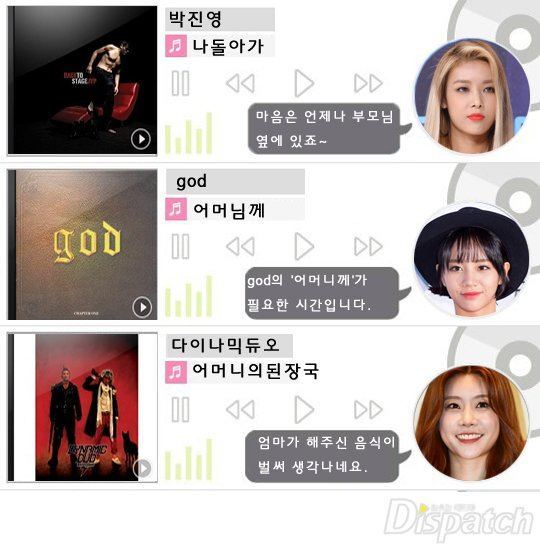 Finally, we're at the end. These idols share tracks that makes them think of their mothers.
#17 | J.Y. Park's "I Return"
Wonder Girls' Yubin: "You may not live with them but you will always be with them in heart. This song reminds me of that"
#18 | g.o.d.'s "To Mother"
Girl's Day's Hyeri: "I always feel like I haven't repaid my parents enough….we need to listen to songs like "To Mother" more so we are constantly reminded and grateful".
#19 | Dynamic Duo's "Mom's Doenjang (Soybean Paste) Soup"
Girl's Day's Sojin: "As the year draws closer to its end I miss my mother's cooking. This song is just how I feel"
To make things a bit easier we've put together all 19 songs into a playlist for you:

Source: Dispatch
Share This Post