Alleged leaked e-mail from Korean Air to employees regarding macadamia nut incident
Following Korean Air's incident over some macadamia nuts on December 5th, an alleged e-mail from Korean Air is circulating online regarding what employees should say regarding this event.
On December 5th Cho Hyuna, now former vice president of Korean Air and daughter of the chairman, had ordered the cabin manager off her departing flight from New York City. Flight KE086 had finished loading passengers and was on its way to the runway when it stopped 10 minutes past 12:50AM EST. The plane then surprisingly returned to the gate to drop someone off, who happened to be the cabin manager of the flight.
The reason behind the cabin manager's removal from the flight was as follows. A flight attendant offered Cho macadamia nuts. Cho retorted, "Is this the right way to service your customers?", and yelled at the flight attendant to get off the plane. When the attendant said, "I am acting according to the manual," Cho demanded she see the manual. The cabin manager brought out a tablet-PC in order to show Cho the manual, but seemed to be shaken and could not unlock the device. At this time, Cho told the manager to get off the plane instead of the attendant. Her voice was so loud that those in the economy seats could hear her voice.
According to the flight attendant manual for in-flight service, the attendant is supposed to ask the passenger whether they would like the nuts, and then come back to the galley to serve the nuts on a small plate, rather than in a bag.
A Korean Air worker was quoted, "The attendant brought nuts even though vice-president Cho did not ask for them. She pointed out that this was not according to policy and told the cabin manager to bring the service manual. When the manager failed to do so, Cho judged that the manager was not fit to oversee the safety of the passengers and ordered to leave her behind." Since the event Cho Hyuna has resigned from the position as vice president, due to the controversy surrounding the incident.
On December 9th a screen shot of an email had been circulating on the web allegedly from Korean Air towards its employees. The alleged email states how personnel should go about speaking of the incident to the media which has made netizens ask, "How is this different from telling people to lie?" 
The email reads:
"How are you doing? If asked a question by an outsider related to today's incident, please respond as stated below. This is a statement that has also been confirmed with the marketing team. Thank you. [ The First Class flight attendant made a mistake in her service, and the cabin manager did not know the basic service manual properly. (Cho) Judged that she did not have the proper requirements to be responsible for the safety and service of those on the plane so she made a decision after a discussion with the captain. ] (According to the manual, Macadamia nuts are supposed to be served in a small plate outside of its packaging after asking the passenger whether they want the nuts)."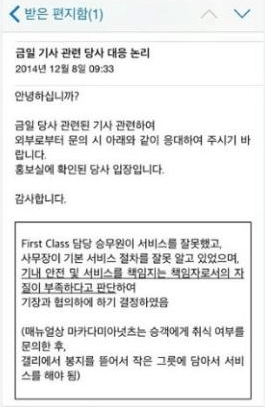 However, Korean Air has already come out disputing the post and stated "This post is not the work of us but something someone created to make it appear to be us. The marketing department made no such approval."
Source: Herald Corp
Share This Post