B.A.P Zelo's older brother speaks out against TS Entertainment
In light of recent events involving B.A.P filing a lawsuit against their agency, TS Entertainment for contract nullification, member Zelo's older brother has released his own statement about the situation via his personal Facebook. 
On November 26th, Korean media outlets reported that B.A.P filed a lawsuit against TS Entertainment for contract nullification, citing issues such as unfair treatment, and reported that during their 3 years of promotions, TS Entertainment gained a revenue of 10 billion won (about $9 million USD) but the members of B.A.P themselves received less than 18 million won (about $16,000 USD) each, during that time span.
Since then, TS Entertainment has released two official statements regarding the situation, the most recent one claiming that B.A.P is being controlled by an outside agency who hopes to later recruit the group. In response, B.A.P also released a statement through a legal representative and expressing their plans to also sue TS Entertainment for defamation.
Now, Zelo's older brother has taken to his personal SNS to post a statement, defending his brother and asking for his message to be spread. He wrote as follows:
"Spread the word please. I would like to speak about TS's official statement on B.A.P's lawsuit as an older brother of one of the members. We gave the artists a break in order to protect them? They threatened 3 of the members when they were barely conscious from exhaustion and forced them to carry on with their schedules by giving them IV lines. Only when the parents begged did they give them a break using the word indefinite hiatus. If anything you say is true, show us proof TS and don't block out Naver real time search rankings."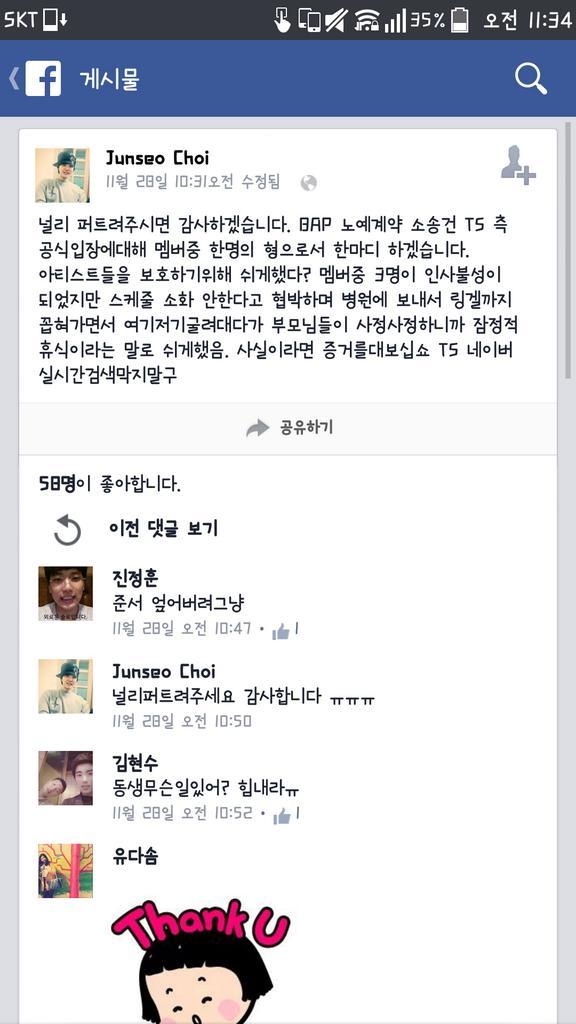 Share This Post