Baek A Yeon beats out strong competitors with "Shouldn't Have" on real-time and daily online charts
In an unprecedented occurrence, Baek A Yeon's recent single release Shouldn't Have has risen to the top of online charts, beating out strong competitors in BIGBANG, EXO, Lee Seung Gi, and IU.
Returning from a two year hiatus with her newest single, Baek A Yeon dropped the music video and track on May 19th, nearly a month ago.
Despite having no plans to promote the track on broadcast initially, the sudden popularity of the song on real-time charts prompted the second-runner up K-Pop Star contestant to make a comeback on music shows to further promote the song.
As of June 15th at 11:30pm KST, Baek A Yeon can be seen topping nearly all the real-time and daily online charts, overtaking strong idol groups BIGBANG and EXO's track.
"Shouldn't Have" is a song written and composed by Baek A Yeon herself with the help of Shim Eun Ji.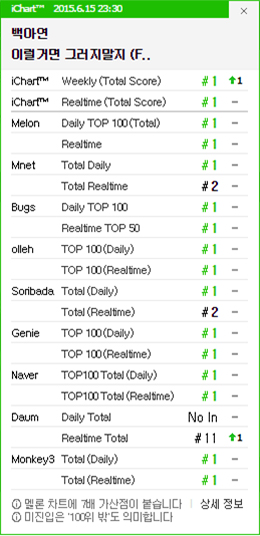 Share This Post