[★VIDEO] CNBLUE's Jong Hyun falls for hidden camera joke on "We Got Married"
We Got Married Gong Seung Yeon introduced her father to CNBLUE member Lee Jong Hyun but planted a hidden camera and fooled Lee Jong Hyun with her acting skills.
On the May 9th airing of MBC variety show We Got Married, Gong Seung Yeon took Lee Jong Hyun to a restaurant and introduced her father. However, she planned to conceal her father's identity and to address him as a restaurant's chef.
When Gong Seung Yeon's father said to his daughter, "You have gotten prettier since the last time we met," Lee Jong Hyun showed jealousy and replied, "You can't say that, only I can say that to my wife." 
Then Lee Jong Hyun praises the food and tells Gong Seung Yeon, "I would love you more if you learned to cook from the chef."
When Gong Seung Yeon's father returned with another dish, he revealed his identity by saying, "That dish was made specially by your mother-in-law."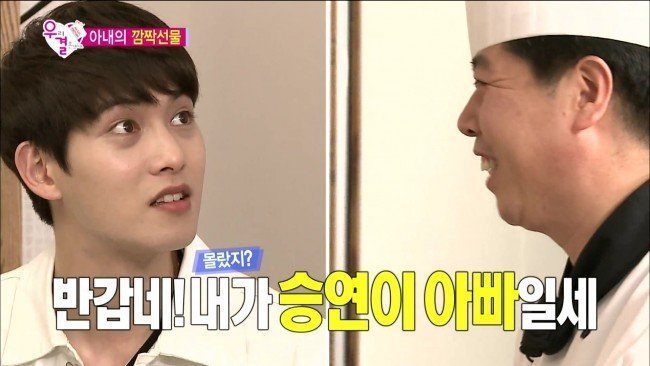 Once Lee Jong Hyun found out that the chef was his father-in-law, he was embarrassed and shocked as his face turned bright red.
The entire hidden camera created a lot of laughter and Gong Seung Yeon's name trended on Naver for her creative planning and her natural acting skills following the episode's airing.
Source: MBN TV
Share This Post