Dispatch reveals in exclusive: JYP Entertainment sells company building for $7.2 million
In an exclusive by Dispatch, JYP Entertainment's CEO J.Y. Park (Park Jin Young) has reportedly sold the agency's building for $7.2 million USD to Choi Goi Won, the younger sister of SK Group's CEO, Choi Tae Won.
According to Dispatch, the sale of the building occurred on November 25th, and JYP Entertainment is currently under a three year rental contract following a 1 million won deposit ($922,210 USD), paying 25 million won ($23,077 USD) monthly rent.
The agency comments on the building purchase, "The building was the private property of Park Jin Young and JYP was simply renting from J.Y Park. From the perspective of JYP as a company, this has no further ramifications than the simple change in ownership of the building. A lot of departments are separated from the main building right now, but we plan to build a building where it is possible to unify all the departments and offices into one."
Choi Goi Won, known as the 5th richest woman in Korea and the 2nd highest holder of shares of C&C, now owns the JYP Entertainment, of which she purchased with 60 billion won (approximately $55 million USD), in addition to the 1 million won deposit from the agency.
The CEO of Miso Real Estate commented on the recent purchase, "The JYP building is in a very desirable location in Chungdam. There are many big K-Pop companies around so it is known as the center of K-Pop. The environment is very active as well, it is very much worth investing in."
J.Y. Park first purchased the building in March 2001 for 2 million won, owning the building for 13 years, and gaining a 3.5 return of his investment. The JYP Entertainment building has a land area of 329.5㎡ and a floor area of 1039.3㎡, and includes a basement and a total of five floors.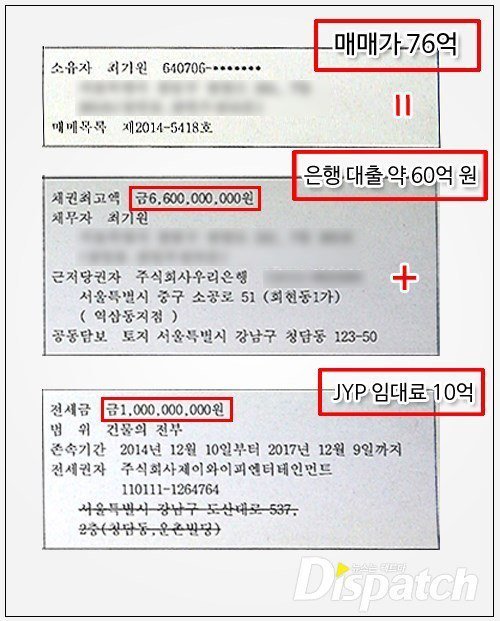 This is an exclusive report by Dispatch. Original article can be found here.
Share This Post