EXO-Ls insult and threaten 13-year-old actress for being a BTS fan
On the latest episode of Happy Together 3, 13-year old female actress Kim Hwan Hee made a guest appearance alongside EXO members, and child actors Jin Ji Hee (17) and Seo Shin Ae (17). 
During the July 7th aired episode, Kim Hwan Hee confessed, "I really like EXO oppas but I'm a BTS fan," after she was asked whether she liked EXO. As a joke, member Suho replied, "I haven't seen your movie ('The Wailing') yet," causing laughter in the studio.
The Wailing was released last month in South Korea on June 3rd.
Kim Hwan Hee then revealed her favorite members in BTS, saying, "I like BTS V and Jimin oppa." Chen then added, "I'd like to see 'The Wailing' with Kim Hwan Hee but I like Seo Shin Ae better," while Seo Shin Ae jokingly continued, "I like EXO but I'm a fan of Akdong Musician," causing yet another round of laughter.
Unfortunately, following the airing, some EXO-Ls did not seem very happy with 13-year old child actress Kim Hwan Hee for choosing BTS over their bias as malicious editing began to appear on her Wikipedia page. One edit added an occupation for the actress as "being overweight" while in years active, "2016 her career is OVER" was written in.
It doesn't end there as additional edits and overwrites were spotted with her biography claiming she "Died on July 7 2016." This is later overwritten with a false claim that read "Stared in the latest Happy Together with EXO as the other guest, claimed that she prefered BTS over EXO whose Suho, EXO's leader bantered by saying that he haven't watched her movie. Hwan-hee, herself, admitted that she will end her career due to EXO L's (EXO's Fandom Name) bashing issue."
No statement has yet been made by the actress regarding the malicious editing to her profile.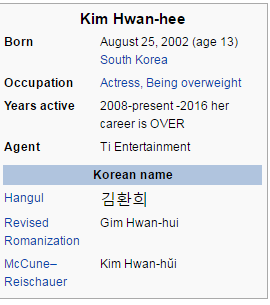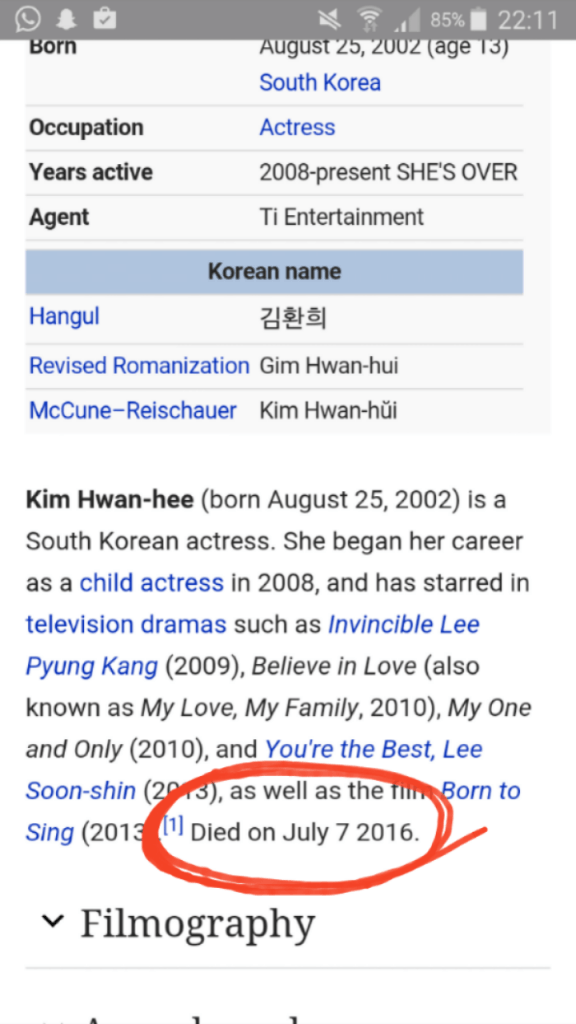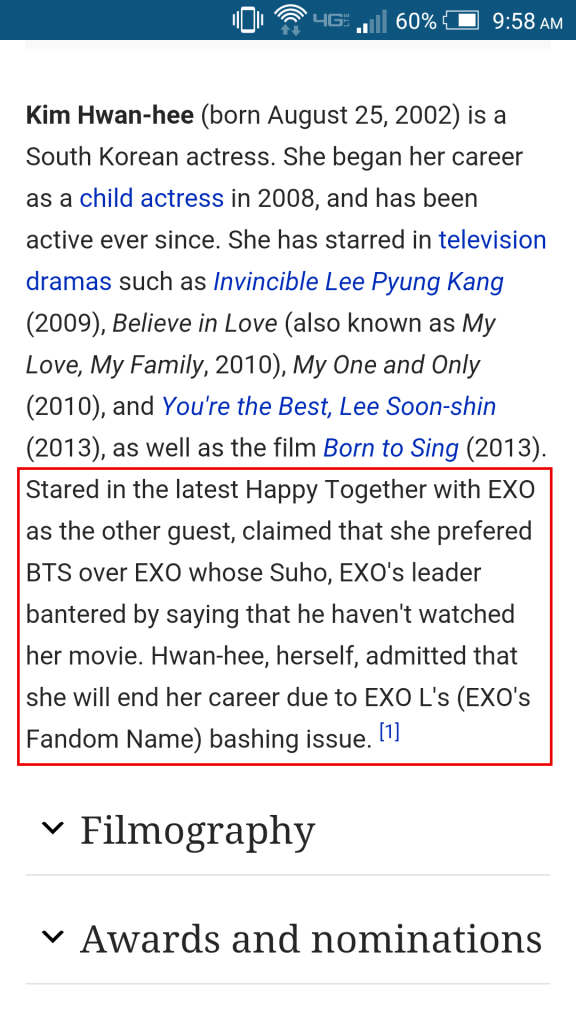 https://www.youtube.com/watch?v=zX5ySrnowpc
Source: Ilgan Sports
Share This Post