EXO Chen's confrontation with an old lady shows hints of his true character
A series of image captions featuring EXO member's Chen has surfaced on the internet, and has given fans a true inside look into the idol's true personality and manners.
During a video filming in a small neighborhood, the scene involved a lot of noise and had a neighborhood halmeoni (grandmother) come to the scene to complain, swearing at them. With a smile on his face and bowing politely, Chen is seen apologizing profusely to her and letting her know that they were nearly done. The grandma however annoyed and frustrated chastises him. He however, continues to sincerely apologize and says he's going to work hard to get the filming done to get out of her way.
After reading about this, fans have praised the idol for his sincere personality especially as he did not take offense to the halmeoni's initial reaction to him.
Meanwhile, Chen is currently promoting with EXO for their 3rd studio album EX'ACT, performing "Monster" on broadcast music showsand other events.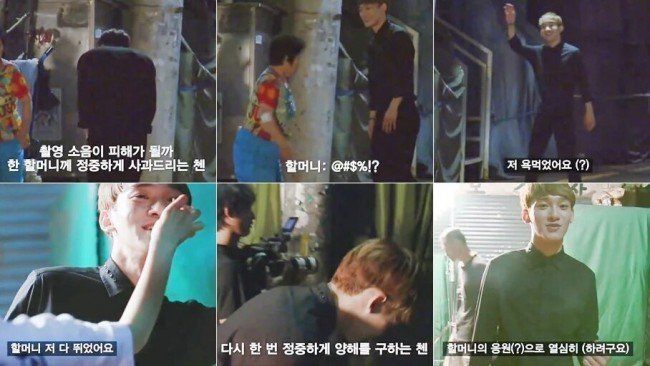 Source: Pann
Share This Post