#EXOLLovesChanyeol trends worldwide as EXO-L show their loyalty and love in response to anti-fans
EXO-Ls have trended #EXOLLovesChanyeol in rebuke of a hate hashtag trended by antis of the EXO member. 
While the origins of the hashtag is unknown and who started it, EXO-Ls noticed the use and hashtag #EXOLWantChanyeolDead on Twitter, with many asking themselves who would use such a tag and showing anger as they questioned who would ever wish for someone's death.
On April 13th and well into the 14th, EXO-Ls began using the hashtag #EXOLLovesChanyeol to show the singer that he is well-loved by his fans despite the previous tag used. While the initial hate hashtag never trended worldwide, EXO-Ls showcased their love in one of the best ways for Chanyeol by getting #EXOLLovesChanyeol to trend worldwide.
Meanwhile, Chanyeol, along with the other members of EXO, has been positively promoting "Call Me Baby," which has won a total of six music show awards thus far.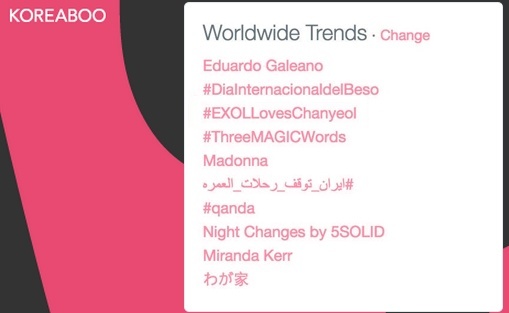 Share This Post