Google Korea reveals the Top 10 search terms for the first half of 2015
With half of the year already passed, Google Korea has shared its Top 10 search terms for 2015.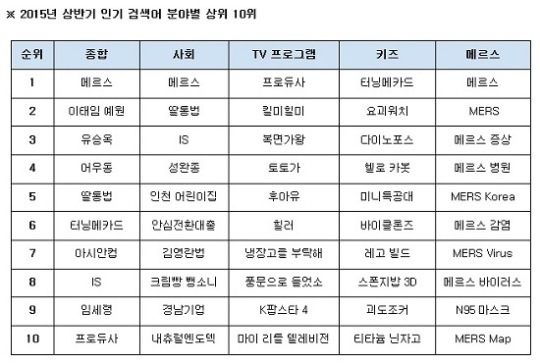 The following keywords were searched between January 1st and June 15th.
First half of 2015: Top 10 Keywords
1) MERS
At the end of May 2015, the first case of MERS was reported after a man returned from his business trip from the Middle East. Since then, there have been 33 fatalities, 182 infected, and approximately 2,600 people under quarantine.
2) Lee Tae Im,  Yewon
On the set of Tutoring Across Generations, Lee Tae Im was reported to have screamed and cursed at former Jewelry member Yewon resulting in the actress leaving the show. However, in a leaked video, the footage revealed that the incident was set off by Yewon after speaking informally to her senior. Yewon has since then released an official apology to Lee Tae Im following the end of her stint on We Got Married.
3) Yoo Seung Ok
Fitness model Yoo Seun Ok rose to fame after her hour glass figure became the hottest and trending topic online following her appearance on SBS's Star King where she shared her diet and exercising secrets. She has since then experienced a surge in popularity and can be seen on various television shows, even featuring as TEEN TOP Niel's female lead in his debut solo music video.
4) Eo Woo Dong
Also known as Lost Flower: Eo Woo-Dong, it is a film released in January 2015
5) Ddaltaong Law
Passed to regulate web and P2P sites and hold them responsible for the sharing of pornographic content.
6) Turning Mecard 
A popular animated television show for kids and became popular, prompting them to get into the toy market.
7) Asian Cup
For the first time in 27 years, the South Korean team went into the finals and won second place at the AFC.
8) IS
A 17-year-old Korean student went missing after traveling to Sirya.
9) Im Se Ryung
Top star and actor Lee Jung Jae was reported to be dating chaebol and heiress Im Se Ryung.
10) Producer
KBS2 variety-drama, the first of its kind, that featured main leads IU, Kim Soo Hyun, Gong Hyo Jin, and Cha Tae Hyun. Focuses on the staff working in the variety department at KBS, revealing the life behind variety shows and their day-to-day dealings.
Social Sector Top 10 Culture Keywords
1) MERS
2) Ddaltong Law
3) IS
4) Sung Wan Jong
Former powerful tycoon and head of the construction firm Keangnam Enterprises killed himself in April 2015 and left a suicide note that implicated at least eight top government officials, including the Prime Minister, for corruption and accepting monetary bribes (CNBC).
5) Incheon Nursery
This nursery was swept in a scandal for child abuse after a CCTV revealed one of the workers (33) slapping and punching a 4-year old child for not finishing her meal. The same worker was also accused of making death threats to another child. The CCTV video was released by police in January 2015. The nursery has since then been closed down (Straits Time).
https://www.youtube.com/watch?v=vGFAh7XIxmE
6) Relief Loans
"The 40 trillion won Relief Loans are aimed at helping a small portion of households convert their existing mortgages into fixed, low-rate ones, and also allowing them to pay principal and interest together on a monthly basis." (Cho Young Moo, economist at LG Economic Research Institute; Korea Times).
7) Kim Young Ran Law
Kim Young Ran is the former head of the Anti-Corruption and Civil Rights Commission (ACRC). The law proposed that any anyone who accepted bribes in excess of one million won, regardless of whether they are given any favors in return, be sent to jail for at least three years. Despite controversies, it passed the National Assembly on March 3, 2015 (Korea It Times).
8) Cream Bread Hit-and-Run
Occurred in January 2015, the hit-and-runs in Korea grew to be a concern after a driver under the influence hit a man (identified as Kang) out to buy his pregnant wife some cream bread. The driver left the scene leaving Kang where he was hit. Kang was found dead at the scene. The driver, known as Huh, later turned himself in after his wife reported him to the police.
9) Keangnam Enterprises
10) Naturalendo Tech
The company came into a controversial situation after allegations rose that their main healthcare product, EstroG-100, was fake. It is marketed as only having ingredients of the Cynanchum Wilfordii, a medical herb that has been proven to help relieve menopausal symptoms. The Korea Consumer Agency, however, revealed that it has detected in its tests that the EstroG-100 contains Cynanchum Auriculatum Royle, an herb that has yet to receive authorization for medical use (Korea Times).
Top 10 TV Program Keywords
1) Producer
2) Kill Me, Heal Me
A drama that follows a third chaebol that suffers from multiple personality disorder after experiencing a traumatic situation when he was little. He meets a student psychiatrist that attempts to help him get rid of each personality. Features Ji Sung and Hwang Jung Eum.
3) King of Masked Singer
Singing competition program that invites singers to showcase their vocal abilities but are hidden behind masks and only known by nicknames to the audience. The masks removes any prejudice in voting including popularity, career, and age. Winners are voted through live voting. Those eliminated remove their masks, unveiling their identity to the audience.
4) Totoga
A special segment on Infinite Challenge that invited some of the 90s hottest idols and singers, including S.E.S, Turbo, Uhm Jung Hwa, and more.
5) Who Are You
KBS drama Who Are You – School 2015 that features Kim So Hyun, Yook Sungjae, and Nam Joo Hyuk, and focuses on the struggles and dilemmas that the Korean youth faces.
6) Healer
Featuring Ji Chang Wook, Park Min Young, and Yoo Ji Tae, the drama brings together three people to solve a decade old incident.
7) Please Take Care of My Refrigerator
Have a full fridge but "there's nothing to eat"? JTBC cooking-variety show that features some of Korea's top-notch chefs who help you find delicious dishes to make out of the common ingredients found in your fridge. Other Korean celebrities are also invited on the show with their fridge brought onto the set, allowing viewers to take a look into what it holds (and sometimes its nasty).
8) Heard It Through The Grapevine
A dark comedy drama that focuses on the upper class and their materialistic ideas. Features Yoo Jun Sang, Yoo Ho Jeong, Go Ah Sung, and Lee Joon.
9) K-Pop Star 4
A music audition program represented by YG Entertainment, JYP Entertainment, and Antennae Music with judges Yang Hyun Suk, J.Y. Park, and Yoo Hee Yeol from the agencies respectively. K-Pop Star 4 was won by Katie Kim, who joined YG Entertainment.
10) My Little Television
MBC variety show that untilizes online streaming through AfreecaTV. Celebrities are invited on the show and must create their own content, competing against one another to have the most amount of viewers.
Kids Sector Top 10 Popular Keywords
1) Turning Mecard
2) Yo-kai Watch
3) [Power Rangers] Dino Force
4) Hello Carbot
5) Mini Force
6) Biklonz
7) Lego Build
8) Spongebob
9) Kaitou Joker
10) Titanium Ninjago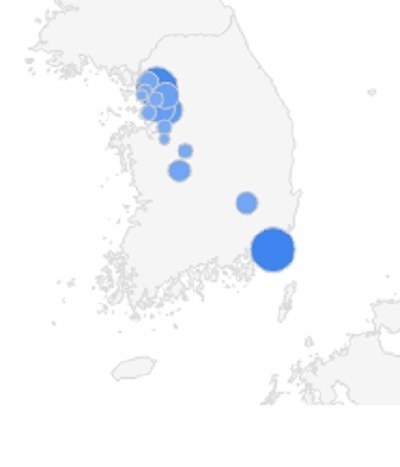 Detailed Analysis of 'MERS' Related Searches
1) 메르스 [Mers]  2) MERS  3) 메르스 증상 [MERS Symptoms]  4) 메르스 병원 [MERS Hospital]  5) MERS Korea  6) 메르스 감염 [MERS Infected]  7) MERS Virus  8) 메르스 바이러스 [Mers Virus]  9) N95 마스크 [N95 Mask]  10) MERS Map
Source: Hanguk Kyungjae
Share This Post