Inkigayo deliberately leaves out I.O.I out of its pre-voting list?
I.O.I is unarguably one of the most anticipated girl group debuts thus far this year, having resulted due to viewer voting through the show Produce 101 via Mnet.

However, as the girl group was created – albeit temporarily as they will only promote together for 10 months – under the cable channel Mnet, there were also expectations that I.O.I would have a tough time with discrimination other broadcasting channels such as SBS, MBC and KBS as they have yet to perform on their music programs.
With their first week of music show promotions officially past them, fans are gearing up and preparing to vote online for a possible #1 trophy for the girls this week.
In particular, Inkigayo is currently facing a controversy after I.O.I was inexplicably left out of the early voting list. For May 22nd, songs such as Sechs Kies "Couple" and Busker Busker's "Cherry Blossom Ending" were included in the list, but questionably, so was Crush's "woo ah," released a day following I.O.I's "Dream Girl" which is nowhere to be found.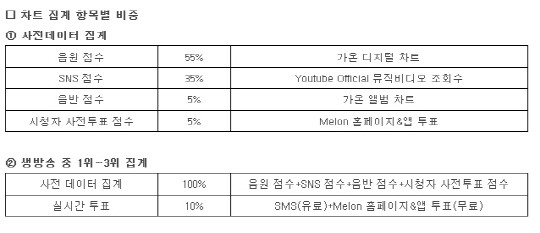 This exclusion from the pre-voting may hurt I.O.I's ranking on Inkigayo as the music chart is comprised of 55% digital sales, 35% SNS, 5% album sales and 5% pre-voting from viewers.
A music  official was quoted saying, "At least give them an opportunity, it doesn't make sense to exclude them altogether. Even if the group was born out of an Mnet program, the nation is the one who selected them. Even if they didn't come from an SBS broadcast, the viewers want to see them."
In response to the allegations, an Inkigayo official said to Sports Chosun on the 10th, "I think there has been a misunderstanding. This is a rule that has nothing to do with bias but a rule that applies to everyone."
"I know there has been controversy involving I.O.I and their pre-voting for "Inkigayo". The producers only found out about this today. We began to look into it right away. Apparently I.O.I was not included in the Melon list but SBS has never requested for this to happen. In order to collect data from Melon it takes time. Every Monday the voting screen is opened based on Gaon Charts the week before but today was Tuesday and I think this is where the misunderstanding happened. In all honesty, rankings onW 'Inkigayo' is more dependent on Gaon charts. Melon only accounts for 5%. "
"They weren't able to have a comeback stage not because they are from a cable channel. Every singer wants to have a comeback stage on one of the big 3 broadcasts. But there's limited number of spots so not everyone gets a chance."
Source: Ilgan Sports and Sports Chosun
Share This Post