JYP Entertainment set to launch "2014 JYP China Audition"
JYP Entertainment is on the hunt for their next training and debuting artist as they launch their audition process in China this year. 
According to reports on October 29th, "JYP Entertainment is to recruit talents through JYP China Audition held from November through December in Beijing, Shenzhen, and Shanghai." 
The audition dates released are as follows:  Beijing on November 23rd, Shenzhen on November 29th and 30th, and Shanghai December 6th and 7th. Anyone born between year 1990 and 2004 can apply through China's largest music portal website (YinYueTai), while applications are based on five general talents in singing, dancing, acting, modelling, and MC.
Winners of the audition process will be given a chance to join JYP Entertainment's trainee program in Seoul, South Korea.
Meanwhile, JYP Entertainment has been enlarging their partnership in China's entertainment industry. In particular, miss A's Chinese members Fei and Jia have been busy promoting in China, with the agency also participation in co-production of the movies, I Wanna Hold Your Hands and drama Dream Knight in China.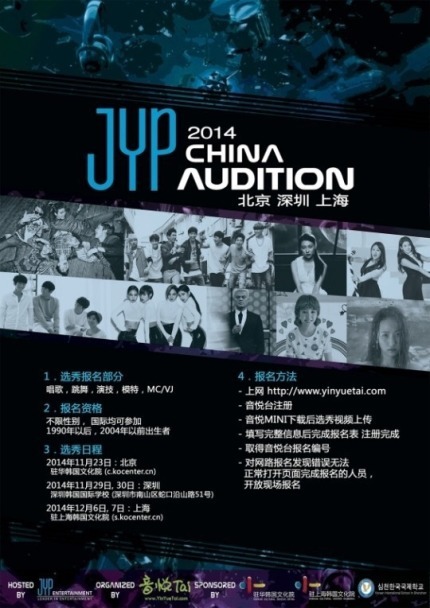 Source: Ten Asia
Share This Post